Encourage staff to make changes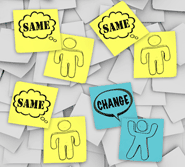 There is nothing more frustrating for either the customer or an employee than to keep hitting the same broken processes.  
Encourage staff to take ownership for problems and to be able to work them through the organisation.  You need to be able to give them time off the phones to do this, but it should yield real dividends.
3 Dec 2012 - Read more about Jonty's Tips , processes, staff