Long-term sickness absence is a big issue for employers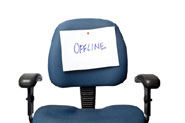 UK businesses are being hindered by a lack of effective sickness absence management, despite over half of employers believing they're well equipped to deal with long-term absence.
According to a new report:
45% of employers believe long-term sickness absence is a big issue for their business
40% say colleagues have to pick up the work of absent employees
17% say they've seen other employees go off sick as a result
Aviva's annual absence management report, conducted to uncover and offer solutions to key issues affecting employer and employees, reveals the immediate impact an absent employee can have on the workplace if adequate support isn't in place:
27% say productivity falls
22% believe it impacts the business financially
21% say service standards suffer
In a bid to keep sickness absence levels down, over a third (37%) of employers say they encourage employees to have a good work-life balance, while one in five (22%) offer private medical insurance. Just 13% say they offer group income protection which, alongside financial protection, would provide crucial rehabilitation support to help employees back to their roles as quickly as possible.
There is some evidence that employers understand the benefit of early intervention in sickness management, with one in five (20%) providing staff training to help them spot the signs of stress. However, over a third of employers (34%) still rely on employees to tell them when they are unwell.
The report reveals that sickness absence is a significant worry for employees, too. Half the employees taking part in the research state that their key concern, behind their recovery (61%), is making ends meet if they are absent from work.
In addition to benefits such as group income protection, 52% of employees would like flexible working hours and 41% want as much time off as possible to help accommodate and assist with their recovery.  A third of employees would like the flexibility to build their hours up and 35% want to know they have a regular income if they are off sick.
Tweet
15 Aug 2012 - Filed under Call Centre News
Liked this article? Why not get our free newsletter.