Netcall named finalist for IT Product Innovation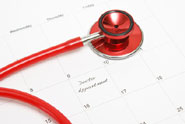 Netcall's Appointment Management Cycle solution (AMC) has been selected as a finalist in the Healthcare IT product innovation category. 
Netcall is one of five companies shortlisted for the award, with the winner being announced on Thursday 4 October 2012 at the Grand Connaught Rooms in London. The EHI 2012 Awards recognise and reward the finest in UK healthcare IT and the excellent work being done in the UK's healthcare industry.
This health-specific solution (AMC), was chosen because it enables hospitals to control, manage and plan the entire appointment process, from partial bookings to admission reminders, significantly reducing missed appointments or 'DNAs'  – a costly problem affecting all levels of the NHS appointment management process.
Mark Holmes, Sales Director at Netcall, commented:  "Trusts who have implemented this solution have already experienced significant results. At the Ipswich Hospital NHS Trust, the Outpatients department has already seen a decrease in DNAs, resulting in savings of £322,000. Chelsea and Westminster Hospital has reported savings of £72,000 per month, the Mid Yorkshire NHS Trust DNA rate was reduced by 25%, and annual savings of £1,000,000 have been reported by Sheffield Teaching Hospitals NHS Foundation Trust. We will continue to work closely with our health sector customers to help them integrate new technology easily, cost-effectively and with confidence, while uncovering new possibilities for getting more out of their communications infrastructure".
Tweet
1 Aug 2012 - Filed under Call Centre News , Netcall
Liked this article? Why not get our free newsletter.