Articles about ivr
Many contact centres are plagued by slow and unreliable computer systems. In this article, Paul Cooper looks at what is causing this and how we can start to address these problems.
(Read more...)
"Do you front your calls with a menu system (IVR)?" was asked of our readers and the results were:
(Read more...)
The advent of the London Olympics, as with many sporting contests, will undoubtedly present certain complications for the operation of your contact centre. Here, we give our best advice for making the very most of this extraordinary event…
(Read more...)
Contact centres have given a big thumbs-down to speech recognition, according to an IVR survey carried out by Call Centre Helper.  
(Read more...)
Not able to get to the Business Systems annual conference? Don't worry, I have pulled together some of the key take-aways.
(Read more...)
Choosing a voice to represent an organisation requires a deep understanding of branding. Matthew Brown looks at how voices are chosen for on-hold messages.
(Read more...)
There is a lot of good call centre software out in the market.  We are invited to a large number of product vendor briefings. At a recent briefing I was asked to pull together a list of the companies that have most impressed me over the past year.  So here is a link to our most [...]
(Read more...)
Paul Cooper argues that if we want to improve customer service, we should start by getting rid of the automated systems.
(Read more...)
Ask any customers about automated voice services and you tend to get a chorus of universal scorn about pressing 1 if you don't want service and getting stuck in an infinite loop without the ability to talk to a "real person". However, is this knee-jerk reaction a real reflection of how customers are using voice [...]
(Read more...)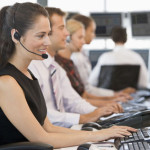 With call centre costs growing year-on-year most large organisations are looking at how they can reduce their telephone demand. Simon Rustom shares his thoughts with us…
(Read more...)
Forum posts about ivr
Subscribe to
Call Centre Helper RSS
Click here for a
FREE SUBSCRIPTION
to Call Centre Helper
Multi-skill or single skill? What do you think is best in your contact centre?