Top Tips for appointment setting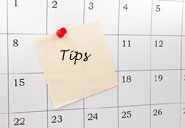 In many call centres you have to make outbound calls to generate appointments.
Stella Jones provides her top tips.
1. Plan your call – Taking the time to plan your call will help you maintain control.  Review all the information you have and make sure you are prepared. Know how you are going to begin and how you can bring the conversation back if it goes off topic.
2. Pretend you are meeting in person – Smile when you pick up the phone and throughout the conversation and sit comfortably in your chair and relax. Try to understand what sort of communicator the person is and try to mirror their behaviour. However, don't be put off with someone who is short on the phone – this may be their way of communicating.
3. Have a 'wow' offer – The first appointment objections will normally be raised at the beginning of the call so it is important in the first few seconds of the call to create interest with the benefits for the prospect.  A great sales tip to help stop early objections in your appointment setting calls is to have a really good reason for your call like a special offer that will wow them.
4. Feel, felt, found – A good way to respond when handling appointment objections is to use the objection as a reason for a sales meeting.  Use the FEEL, FELT, FOUND – Acknowledge the prospect's objection. "I understand how you feel. Many customers we have today felt that same way. However, after they looked ____ they found ____ to be the case".  Let them know that at the appointment you will take the time to assess their needs. Then move on, take an assumptive approach and set the appointment.
5. Have a conversation – Don't talk AT them – Don't talk for too long and try to engage them in the conversation as much as possible. Clearly explain who you are and why you are calling and state how long the proposed appointment will last. Most recipients of sales calls are less threatened by short appointment times. Ask quick, relevant questions to discover as much about the prospect as possible to tailor the call and to keep their attention. Always ask open questions – who, what, when, why, how – which prevents them from giving one-word answers.  Only ask one question at a time and repeat back what they have said when appropriate, so they get in the habit of saying yes.
6. Don't blag it – Do not be afraid to ask if you do not understand. Knowledge is power and often people like to talk about themselves and will be happy to explain. If you are asked something you do not know, do not try to blag your way – people always know. Say that you will find out and get back to them – or say that you are not the expert and will either come back with the answer or have the appropriate person call back.
7. Do not give up on the first objection – If the prospect says they are not interested – don't ask why they're not interested. When cold calling and appointment setting you should not ask why as all it does is reinforce the objection.  Repeating the objection has the same results. Ask polite questions to determine why the client said no – perhaps you did not ask the right open questions. Keep going and don't give up – learn to live with rejection and try not to take things too personally when people say no.  It can take several attempts to convince the prospect you are worth seeing.
8. Interested, but too busy to meet – If your service/offering can save the prospect time, then say you are phoning because you thought she would be a busy person and you can help with that. If the prospect objects saying that it is approaching Christmas, Easter, or any holiday time, then you can handle this objection by saying that's why you're phoning, to make an appointment now for after the holidays.
9. Sell the benefits of the product or service, not its features – Discover what their issues are and how they would prioritise them and work for the most appropriate one first. Find something to offer them that they find difficult to say no to and then try to close the call.
10. Be assertive when closing and close as many times as feels comfortable - Clarify at the end of the call the appointment time and date before thanking them for their time.
---
Stella Jones is founder of B2B Contact Marketing – a multilingual direct marketing company based in North Wales.  She has been featured in the Daily Post, Daily Express and Management Today and was awarded a Rising Star Award 2009 from Wales Business Insider magazine (www.b2bcm.co.uk)
Tweet
5 May 2010 - Filed under Hints and Tips,Management , appointment setting, cold calling, Hints and Tips, Outbound dialling, telesales
Liked this article? Why not get our free newsletter.