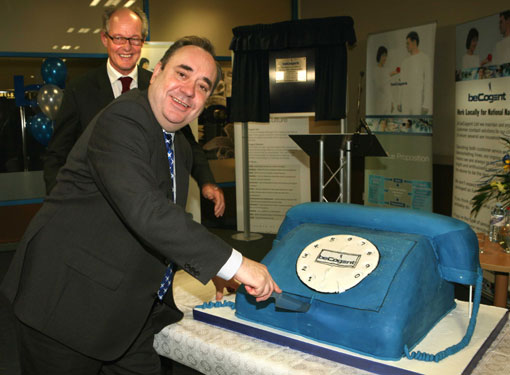 Scotland's First Minister Alex Salmond announced four new contracts worth in excess of £85 million to the beCogent contact centre group.
These will secure approximately 1,500 jobs over a minimum of five years.
Celebrating beCogent's tenth anniversary with employees in Airdrie, Alex Salmond was able to reveal a package of new and renewed business for beCogent, which turned over in excess of £40 million with pre-tax profits of £3.6 million in its most recent financial year.
The company has signed new long-term contracts with current clients:
Virgin Media and JD Williams securing over 1,000 agents' jobs in Airdrie.
National Australia Group, owner of Clydesdale and Yorkshire Banks, has also renewed its arrangement with the company securing at least 400 jobs in Kilmarnock.
In addition, beCogent has recently gained a multi-year contract with Sainsbury's Supermarkets, which will result in the creation of 150 new jobs at the company's Glasgow centre.
Mr Salmond congratulated beCogent on this very positive news, which he said is of great importance to the company and to the broader economy of Scotland.
He said: "I'm pleased to join beCogent as it marks its 10th birthday – a landmark anniversary the company shares with the Scottish Parliament this year.‬‪ Just as the Parliament has grown in stature over this past decade, becoming a symbol of Scotland's renewed sense of confidence, so beCogent has developed into a potent symbol of the entrepreneurial spirit and drive that marks out the business community in Scotland.
"This company is a real Scottish success story. And that success is set to continue. I am delighted today to be able to announce recently signed contracts worth over £85 million, which will support some 1,500-plus jobs across Scotland.  At any time, these contracts would all be good news.  During this wider economic downturn, however, this is fantastic news – for beCogent, and for Scotland."
beCogent Chairman Dermot Jenkinson was also able to add to this news which coincides with the company's Tenth Anniversary. "In the past five years, our revenues have more than doubled from £19 million to £40 million and, although the current year may not feature such sharp growth, beCogent's financial position is robust and we can now look forward to increasing both turnover and profit in the future years," he said.
Dermot Jenkinson added: "The continued support of Government has helped beCogent grow over these ten years and I am grateful to the First Minister for joining us for our celebrations today."
Lastly, Dermot Jenkinson mentions the recent establishment of beCogent's Insight Service which is designed to add value for clients by leveraging IT, data and direct marketing capabilities providing clients with powerful strategic insights into consumer behaviour and product performance.
Pictured above: The First Minister Alex Salmond cutting the cake with Dermot Jenkinson.
Published On: 2nd Dec 2009 - Last modified: 22nd Mar 2017
Read more about - Archived Content
---