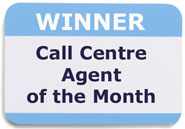 Our January Agent of the Month is Sonia Sutcliffe of Atkins in Leeds. Sonia works as a helpdesk operator in the Asset Management business unit of the company.
She has been nominated by managers after collecting 30 nominations from colleagues in the company's internal monthly reward and recognition awards over the last year.
Sonia has been praised for her commitment to her job. She often works overtime, and colleagues commend her reliability.
Tracey Rangeley, Helpdesk Operations Manager at Atkins, said:  "Sonia is the backbone of the team; she consistently performs to an exceedingly high standard and is very supportive to the business and remains professional at all times. She is always very willing to support her peers and Team Leaders."
Sonia also won the operator of the year award at the Atkins Christmas Party and was presented with £250 in high street vouchers and an Atkins goody bag.
Stacey James, Helpdesk Operator said:  "Sonia is always happy and keeps morale high in the office; she will offer to take work off people to help them out when they are too busy themselves. Sonia is much respected and a knowledgeable member of the team. She is constantly referred to with any queries and will always do her best to find the answer out for you there and then."
Sonia has been with Atkins in Leeds since 2006, and currently makes more than 100 outbound calls a day.
"I am delighted to be Call Centre Helper's Agent of the Month, it is always nice to know that my colleagues and management appreciate the hard work I put in. I always like to help others no matter how busy I am myself, and I feel that they appreciate this and I get a lot of satisfaction from it too," said Sonia.
If one of your colleagues or employees has excelled themselves lately, nominate them for our Agent of the Month award by sending details to the Newsdesk.
Published On: 19th Jan 2011 - Last modified: 12th Dec 2018
Read more about - Archived Content
---