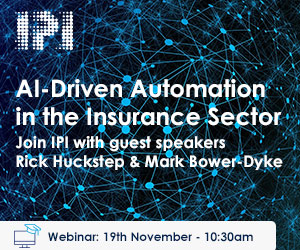 Addressing some of the biggest challenges facing customer service environments in the insurance sector
Join IPI, along with guest speakers Rick Huckstep, Chairman of the Digital Insurer, and Mark Bower-Dyke, Founder and Chief Visionary Officer at Bewiser, as we discuss strategies and technologies to help insurance companies address some of the biggest challenges facing their customer service environments. We will also look at how COVID, and the unusual circumstances we are in, are driving insurance companies to invest in technology in a way we haven't seen before.
The UK insurance market is seeing one of the most disruptive periods in its history as new innovative competitors look to challenge the established brands, seeing an opportunity to exploit their larger competitors' lack of agility and ageing infrastructure. The traditional expectations of insurance brands are radically changing as customers look for speed of service, ease of use and of course the best price. With customer loyalty never being so hard to come by, insurers are having to battle exceptionally hard to retain and attract new customers.
Explore how the rapidly changing UK insurance market is creating both challenges and opportunities for organizations
Explore techniques to utilize artificial intelligence in order to drive efficiencies in the contact centre
Look at what digital innovation means, particularly in relation to making the best use out of legacy back-office systems
Understand best practices and what impact self-service strategies and process automation can have on the customer journey
Date and time: 19 November, 10.30 – 11.30
Have your say
A Q&A session will take place so you can ask any questions you may have. We will also run an interactive poll throughout, with the findings displayed to all participants and attendees. The results of the poll will be discussed by the panel.
Register now or contact us if you have any questions about our event.
Speakers
Rick Huckstep – Chairman of the Digital Insurer
Mark Bower-Dyke – Chief Visionary Officer, BeWiser
Steve Murray – Applications Director at IPI
Hosted By
Ben Smith – Solutions Consultant at IPI
Isaac Richardson – Contact Centre Technology Consultant at IPI
---
---
Recommended Articles
Related Reports