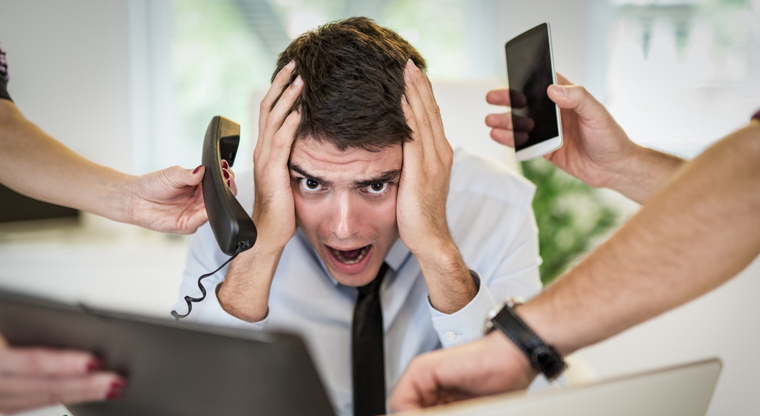 Question: I recently took over a bureau with 20 agents and a key client with high service levels agreements (SLAs).
The directors keep winning more and more business, resulting in the degradation of these key KPIs and I am getting the blame. I only have a small team and we have been at full stretch.
Help – I need advice on how to tackle them.
Answer:
Courtesy of Paul Weald, RXP

Some may say this is a nice problem to have. Plenty of new business and therefore revenue coming in through the door. However, if the client contract has penalties applied when SLAs are not met then I can imagine the tension that you now face in managing the operation.
In terms of how to get the directors to face up to these realities, I would start with thinking about what factors motivate them as individuals. If they are financially astute they will resist your initial requests to just provide extra resource – claiming that all this does is increase the cost base.
So to gain their trust and support for your ideas, I suggest you offer to help the directors in the following ways:
Review their client costing model so that it calculates resource requirements and translate these into forecasts and pricing models;
Instil a communications culture across sales, projects, IT and operational management to ensure that all client requirements are communicated correctly and punctually;
Review the business development management process with a view to ensuring a clear pipeline qualification process is in place so that prospects are clearly identified and resourced appropriately;
Provide your own time for client sales presentations to ensure operational credibility directly to potential new clients.
In this way the directors will see that your objective is to help them to achieve excellent customer satisfaction as they grow business – which in turn establishes you as a positive role model so that operations is seen as a key player in achieving that growth. Best of luck.
---
Answer:
Courtesy of Ian Morton, Budd
It's your first big opportunity. The director has singled you out as the person to run the department.Challenges:
Long call queues
Apparently poor agent performance
High attrition Umm! Do you really want the job?Course you do, nothing better. Whatever you do, don't just jump in. You need to understand the situation, and come up with a clear strategy and a cohesive plan that the business can buy into.
Start by asking the following:
1. How clear is the service proposition?
Is it possible to measure the gap between the customer's and the business's expectations?
Can we measure delivery?
Are the expectations defined?
What level of service is currently being delivered and can it be measured against expectations?
Can the customer easily use each channel?
By clarifying the above you will know what is expected and what gaps need to be filled.
2. Do you have access to clear and effective reporting and MI?
Can you measure the customer experience?
Can you measure contact demand using the language of the customer?
Do you know the % of 'first time fixed' and average number of repeat calls?
Do you know who the business owner is for each contact category and are they brought into taking responsible action to fix problems?
Do you have reporting and feedback mechanisms to enable effective tracking of resolution activity?Don't fall into the 'old school' trap of focusing primarily on AHT or other numeric 'drivers'. These are easy to obtain and are frequently used as the main measure of efficiency.
3. Do you have the right team in place?
Is your recruitment and training process attracting the right talent?
Are you utilising this resource effectively through effective forecasting and scheduling?
Do you reward agents for adding 'value' to your business, not just sales?
By understanding and enabling the above you can drive out negative contact (up to 60% to 80% in some businesses) and re-invest your freed-up time, resource and money to adding value to the customer and your business. It's definitely worth it.
---

Answer:
Courtesy of Gene Reynolds, Blackchair
It's good to hear that you are looking to grow your contact centre. As other organisations are shrinking, your business is obviously growing, so that's a good start.Your directors will undoubtedly know that as they gain more clients, the demands across the business will also grow, not only in your contact centre, but in their accounts department, production and manufacturing (if any). So they will already be prepared for these "growth investments".So my first tip is to have confidence in approaching them. Next thing to do is to build a "cost per agent" index taking into account the optimum service levels your business has set for you, and contrast that with recruitment costs, IT costs (i.e. new PCs, phones, ACD licences, etc.), floor space, etc. Know your physical limits in terms of the maximum number of agents you can possibly fill within your office.Get intimate with the peaks and troughs of your operation and prepare a simple calls per FTE rate and link that with a price for the business. So for example, if each new client generates 1,000 calls a month, you can give the business a simple index highlighting the number of agents your centre will require for each new client.
Make sure you have a budgetary number available for this too. This should be a number that is in their minds whenever a new client is acquired. Be sure to annualise it to your directors for the length of the contract or term. So, if your directors acquire a client over a three-year contract and you will need an additional three agents to cope with the volume, this number should represent their cost over the three-year period.
Also, you must remember that a new client may not necessarily result in an increased demand in agents. So always scrutinise the staffing levels and KPIs to achieve a "tolerance" within the KPI. In short, missing a KPI is not a good thing, but "super-achieving" the KPI is not a good thing either, as it indicates too much wasted resource in the business.
Another strategic approach is to speak to your directors to ensure that your department has a stake in the "cost of sale" process. That is, when the business is in the process of selling its services/products, the cost of sale or acquisition also includes the number of heads your operation may need. Keep abreast of the leads they are pursuing to gauge the forecasted growth. If you know they are acquiring one new client a month, you will be able to calculate the rate you need to recruit in order to maintain your KPI and achieve excellent service.
---