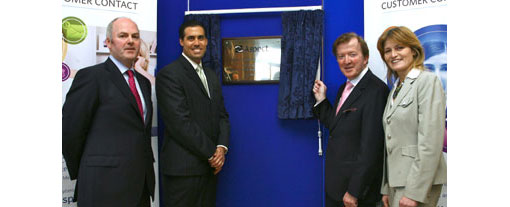 Aspect has marked the official launch of its Galway-based operations and opening of two new facilities.
The Aspect facilities began operations in December 2010, to deliver customer technical support, provide software production and distribution, and serve as a shared services centre for select administrative functions. The two facilities, one located at The IDA Business Park, Dangan and a second at the Claregalway Corporate Park, Claregalway, Co. Galway, have brought 37 new jobs to Galway to date.
The opening ceremony took place at the Glenlo Abbey Hotel, Bushy Park, Galway, where the Minister for State at the Department of Jobs, Enterprise and Innovation, Mr. John Perry, presided over the event and reception attended by members of the local business community. The Mayor of Galway City, Michael Crowe, also officiated at the opening, joined by Aspect's Chief Financial Officer Mike Provenzano, Senior Vice President Mark King and Vice President Shawn Garrett.
Speaking at the opening ceremony, Minister Perry said, "Aspect is an excellent addition to the thriving technology sector in Ireland and endorses Ireland's international reputation as a leading location for global software and IT services.  Having distinguished itself as a global industry leader with its customer contact solutions, Aspect's expansion in Ireland is creating employment opportunities across a range of high-value activities that are strategically important to the company's overall operations."
Mark King, senior vice president, Europe and Africa for Aspect said, "The opening of this strategically important operation in Galway presents significant opportunities for Aspect business expansion. The availability of a multilingual workforce, high calibre software engineers trained at exceptional 3rd level institutions in Galway, such as the National University of Ireland, Galway and the Galway-Mayo Institute of Technology, along with the support of IDA Ireland further demonstrates that the decision to locate in Galway is the right one for Aspect."
"The official expansion of Aspect's European operations in Ireland lets us take advantage of this dynamic marketplace to manage growth in this region while providing the highest levels of service to companies who are looking to leverage the latest communications technologies to drive the optimal customer experience, " said Mike Provenzano, Chief Financial Officer, Aspect.
Pictured above from left to right: Denis McGrath, CFO, Aspect Ireland; Michael Provenzano, Chief Financial Officer, Aspect; Minister for State at the Department of Jobs, Enterprise and Innovation, Mr John Perry TD; Mary Buckley, Head of Regional Development and Property Division at IDA Ireland
Published On: 22nd Jun 2011 - Last modified: 22nd Mar 2017
Read more about - Archived Content
---
---