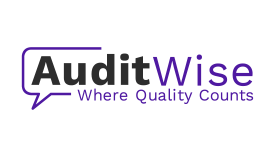 Empowering businesses to revolutionise the way in which they enhance their agent and customer journey. With no integration required, set-up is straightforward and simple.
Contact Name: Hayley Plant
Tel No: 01880 28 28 20
Contact Email: info@auditwise.com
Profile:
Scoring calls and transcripts has never been so easy with AuditWise.
Move away from clunky spreadsheets and complex formulas to easy-to-build scorecards and powerful reports. Personalised dashboards provide supervisors with an overview of their teams' performance whilst agents can view their latest scores and recognition and even request feedback.
AuditWise has proven to be a great solution to many of our customers, helping them:
Improve customer satisfaction
Reduce regulatory risk and associated penalties with compliance reporting
Reduce attrition levels through increased employee engagement
Maximise sales through focused coaching and feedback
Increase staff motivation through gamification
With over 30 years of customer service and call centre management experience and a further 20 years of working in a regulated environment, we are perfectly placed to support your business in the implementation of quality monitoring and driving results. We listen to the feedback of our customers and continually develop our solution in line with new requirements. We ensure that we are proactive in our updates and support.
To see how AuditWise can help your business and arrange your free demonstration, please visit https://www.auditwise.com or call us now on 01880 28 28 20
Social Media:
Twitter Handle: @AuditWise
LinkedIn Company Page: https://www.linkedin.com/company/auditwise/
Facebook Page: @Auditwise
Address: 3 The Clocktower, Manor Lane, Holmes Chapel, Cheshire, CW4 8DJ
Weblink: https://www.auditwise.com
Categories:
Agent Coaching and Monitoring
Call Centre Software
Performance Management and Quality Monitoring
---