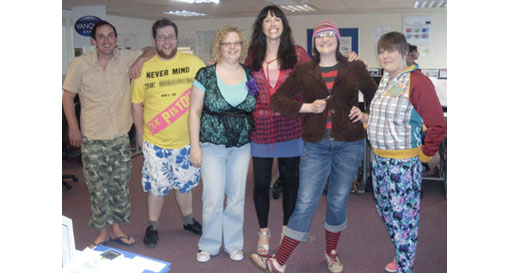 Respondez launched its involvement in this year's Evolution Corporate Challenge with a Bad Taste Fashion Challenge, and employees were only too keen to dress badly for charity!
The Evolution Corporate Challenge provides organisations with £50 and challenges them to raise as much money as possible over a period of three months, with all monies raised being shared equally between Hartlepool & District Hospice, Zoe's Place Baby Hospice & St Teresa's Hospice.
The staff at the call centre, based in Hartlepool, took inspiration from fashion faux pas of the 60s, 70s, 80s and 90s and paid £2 for the privilege of the frocky horror show!
Jay Patel, Director, said: "Staff at the site had great fun dressing up and they have come up with some more fantastic ideas to raise as much money as possible between now and the end of June. We are delighted to be involved in raising funds for three very worthy local causes.
"We would also like to say a big thank you to some of our clients who have kindly donated products which are being raffled as prizes for staff to win, including a ride-on toy car, exclusive beauty products, fitness programmes, a steam cleaning machine and a half day's paid leave, as well as selection of Easter Eggs."
Staff are looking forward to the next activity for the Challenge, a sponsored 'stay awake' on Saturday 14th May which will last from 6pm until 6am. Other fundraising ideas currently taking place include 'guess the teddy's birthday' and 'guess the number of sweets in a jar.'
Pictured above: Jon Kershaw, Neil Douglas, Lisa Bell, Natalie Mullen, Janine Forth, Clare Rowntree
Published On: 4th May 2011 - Last modified: 22nd Mar 2017
Read more about - Archived Content
---