Tales of expanding call centres taking on lots more staff to deal with 'increased demand' seem to have been in the news lately, but is it all good news?
As a management consultant I have often seen call centre demand increase and new staff be hired not because they were so successful, but because their service was poor.
Imagine this: a customer calls a centre, gets their call dealt with efficiently and effectively by one agent and leaves happy.   That's one phone call. A customer calls another call centre, their call isn't satisfactory and they call back. That call doesn't resolve things and they call back later to complain, at which point their call is resolved.  That's three phone calls.
Simply put, bad service generates more calls. More calls need more agents to deal with them.
Of course, this may not be the case for the recent good-news stories, but it's something for all managers to consider.
So how do you check?
Sit down with the call operators, listen in on the calls, and start recording why the customer called and what result they got. Bear in mind this isn't about the performance of the individual operators, it's about the performance of your customer service systems. Take a look at the real-life customer example below to see what I mean.
Client X is a professional body providing industry certification and accredited membership. They took a look at the customer demand in their call centre as suggested and found that only 32% of the calls they were receiving were the type they wanted/expected.
Approximately 68% of the calls to their call centre were effectively self-generated by failures in their system. And they were paying for it. If you were to imagine a similar figure in your own centre you can do the maths yourself. You can also imagine what their customers think of this service and by extension of the entire organisation.
Below is the breakdown of that 68% demand they were getting from the failures of their customer service systems. Just looking at this you can clearly see where you could start to make improvements which would reduce the volume of these unwanted calls, reducing costs, and improving the service for the customer.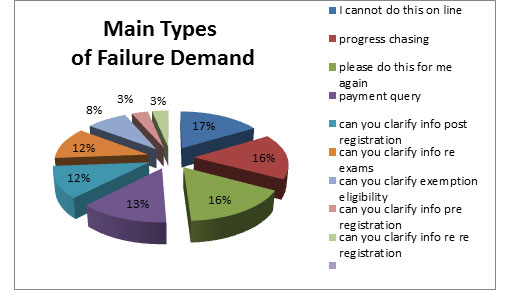 Companies doing this internal research for themselves may decide they don't actually need to hire more staff. Bad news for local job creation but good news for the job security of those currently working for the company as it will be more profitable and robust and therefore less likely to go under.
Stuart Corrigan is the Managing Director of consultancy firm Vanguard Scotland and the author of 'Secrets of High Performing Call Centres'.