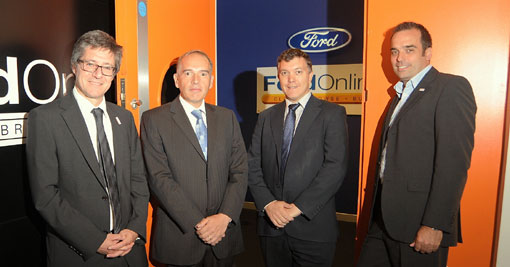 Ford Retail has introduced a campaign and contact management system from mplsystems to give its fast-growing online sales division a human touch. The Challenge
The way we buy cars is changing. A 2011 survey of 2,485 consumers found that while 28% visit websites five times or more during their car-buying process, just 11% visit dealerships that many times. The team at Ford Retail realised that, while in the past customers had used the Internet for preliminary research, increasingly they were going further online. They were no longer just looking into certain brands and drawing up initial shortlists; they were looking for information on prices, availability and even the possibility of part exchanges.
This led Ford Retail to launch FordRetailOnline.co.uk. This is a comprehensive database of vehicles available. It is an important innovation in the market, and opens up many opportunities. However, as with all innovations it also presents a host of challenges.
A car is a high-value purchase and so, for many consumers, human interaction remains an essential part of the buying process. We are not yet at the point where many people will be comfortable buying a car purely online. So, FordRetailOnline provides phone, as well as email, web and video conferencing customer support.
It is a highly competitive and fast-moving market. When a potential customer contacts the company via its website, it is vital that an agent responds rapidly. The team at Ford Retail is acutely aware that every second counts – the quicker you can respond to an email the more likely it is you will sell a car.
In order to achieve this, Ford Retail needed a system that would instantly connect potential customers with agents who were experienced, knowledgeable, and most of all fully up-to-speed with what the customer wants. Furthermore, it needed to do it across phone, email, web and video conferencing channels. This was the brief Ford Retail set mplsystems.
The Solution
mplsystems designed a multi-channel contact and lead management system based on its intelligentContact (iContact) platform. This solution, named HAL by the FordRetailOnline team, manages every customer contact according to pre-defined business rules.
It queues phone calls, emails and web enquiries and routes them to an appropriate agent, based on the time of day and how busy the agents are. A comprehensive database generates screen pops at suitable times in the conversation, giving agents the customer information they need at the precise time they need it.
The system also helps Ford Retail with its outbound campaigns. It produces branded emails, tracks responses and schedules call-backs as well as any subsequent customer service actions.
Integral call recording and monitoring allows the management team at Ford Retail to review the quality of calls. iContact's reporting gives real time and historic performance data as well as past and future sales predictions. This allows managers to focus agents on the correct activities. Performance is displayed on wallboards to give agents a first-hand, real-time view of how they are performing as a team.
Agents can be based in the company's head office or they can work remotely, for instance in one of the showrooms. To ensure that customers can speak to an agent 24/7/365 mplsystems' parent company, Message Pad Ltd – a major UK call centre – provides overflow support.
The Outcome

The introduction of iContact has had several significant effects on Ford Retail. It has freed agents from admin tasks. So, rather than spending time finding lead data on paper and correlating between web, email and call information for each lead and then wasting time making manual lists, agents are now on the phone to customers, selling cars.
Furthermore, the reporting facilities have helped the management team allocate resource more efficiently. Armed with up-to-date and accurate information about workflows, they can allocate the right number of people to inbound and outbound campaigns, and with the Message Pad Ltd resource on hand they can always be confident that every call will be answered rapidly.
Indeed, the team at Ford Retail estimates that the introduction of this new system has increased agent efficiency by 25%. Where some calls might have taken a minute to answer, now they are answered within 20 seconds.
As Steve Hood, Managing Director at FordRetailOnline concludes: "The introduction of an automated call and email handling and lead management platform has enabled us to improve our service to our customers. Online car sales is a growing area and FordRetailOnline is leading the way, providing the human touch in the sales cycle through this creative use of call centre technology."
The Technology

The system Ford Retail uses is iContact from mplsystems. Paul White, CEO of mplsystems, describes what makes the system different: "It is based around rich, incredibly flexible CRM applications which can be configured rapidly around an organisation's needs. Furthermore, unlike many contact management solutions iContact has been designed from the call centre up."
He adds: "We have had many years' experience running our own call centre and understand what is required in a system to enable agents to do what they should be doing: closing deals or providing exemplary customer service."
You can hear more about the solution in the Video Case Study http://www.mplsystems.co.uk/?utm_source=callcentrehelper.com&utm_medium=referral&utm_campaign=Call%20Centre%20Helper/case-studies/ford-retail/ford-retail-online-video-case-study.html
---