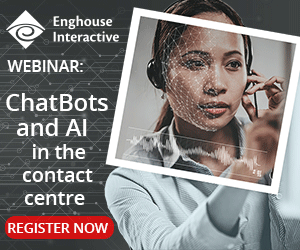 About the Event
THE DATE: 25th October 2018
Gartner states that by the end of 2017 about 70% of all use cases in AI were related to customer service and call centres. The hype of ChatBots and AI: is it a reality or just a news story? Is there a place for both humans and ChatBots to work hand in hand and blend into the entire customer service journey? The challenge is getting the balance and strategy right.
Join this webinar – with Enghouse's customer Fujitsu – to find out more about how ChatBots and AI can work seamlessly in the contact centre. Hear the highs and lows of implementing and continuously updating a ChatBot and AI strategy into your contact centre and learn the best practices.
You'll learn how to build or expand your contact centre's ChatBot and AI strategy. We'll help you utilise the latest in communication technology to improve your customer engagement, increase productivity and automate processes for greater return.
We'll address the common challenges faced by the modern contact centre, and provide the solutions and best practices to help you improve your members' experience without investing in gimmicky, outdated technology.
THE WEBLINK: https://contactcentreai.com/?query=CCHevent
Date and Time
Starting:
Thursday 25th October 2018
Organisers