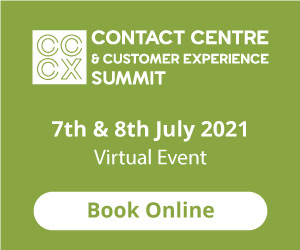 About the Event
Wednesday 7th & Thursday 8th July – 9.00 – 13.45
The Contact Centre & Customer Experience Summit is a brand-new virtual event designed to bring together customer experience professionals and the latest product and solution suppliers to build business relationships through one-to-one virtual meetings.
The Contact Centre & Customer Experience Summit – an essential event designed entirely for you.
Whether you're a supplier to the industry or a customer experience professional – this new virtual event is a key platform to assist the future of your business.
All attendees will receive a bespoke itinerary of relaxed one-to-one meetings based on your requirements.
Senior professionals that are directly responsible for their organisations customer experience requirements can attend for FREE!
PLUS, you can also enjoy access to a series of live webinars about the current and future challenges within the industry – See our website for the speaker line-up.
To find out more about attending contact Hayley Stratton on 01992 374073 or email h.stratton@forumevents.co.uk.
Don't miss out on building essential business connections with solution providers that can support you with upcoming projects – Covering product & services including – Self Service, AI Applications, Multichannel Survey Tools, Online live-chat systems, Voice Analytics technology, VoC programmes, I o T, Social Media Monitoring, Secure Payments Solutions, Predictive Routing Technology, Cloud Systems, Case Management, Voice Biometrics, Business Intelligence and so much more.
Are you a supplier to this industry?
For more information about how you can join us and host your own meetings with these professionals, contact Gayle Buckland on 01992 374063 or by email g.buckland@forumevents.co.uk.
We look forward to seeing you at the event.
Date and Time
Starting:
Wednesday 7th July 2021

Ending:
Thursday 8th July 2021
Organisers