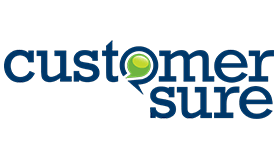 With our expert advice and refreshingly simple customer feedback software you'll become a hero in your company for improving customer retention, delivering outstanding service and helping your people develop and excel.

Contact Name: Guy Letts
Tel No: +44 (0) 191 695 6910
Contact Email: info@customersure.com
Profile:
CustomerSure helps medium to large companies streamline customer feedback.
With our expert advice and refreshingly simple software you will measure customer satisfaction KPIs in real time and gain valuable customer comments on your products and services.
Automating the feedback process allows you to focus on improving the customer experience, increasing retention rates and growing sales.
Our style is friendly and helpful, so feel free to get in touch for a no-obligation chat.
Social Media:
Twitter Handle: @CustomerSure
Expert Guidelines & Resources: https://www.customersure.com/customer-service-surveys/
Address: John Buddle Work Village, Buddle Road, Newcastle upon Tyne, NE4 8AW
Weblink: www.customersure.com
Categories:
Automated Customer Surveys
Customer Experience
Voice of Customer
---