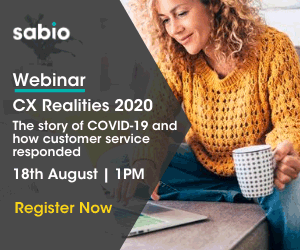 18 Aug 2020 13:00 to 14:00
Let us enter the story as lockdown is announced and recall those first adrenaline-fuelled weeks.
COVID-19 saw a rapid switch into remote working was critical. It was the only means for organizations to continue to function. While the pandemic brought out the best from many teams, the size of the challenge differed.
In this webinar, joined by Martin Hill-Wilson, we will review the findings of Sabio's CX Realities 2020 report, looking at the impact of COVID-19 on how we behave as organizations, employees and consumers.
Key findings of the report showed:
The threat of survival collectively shocked organizations into an action-oriented mindset
Business continuity planning did not encompass a crisis of this magnitude or speed
The move to online channels was huge, encompassing all age groups and channels
Changing perceptions of homeworking as a long-term viable option, with caveats
New ways to develop, motivate and retain employees will be required
Customer experience will become a greater priority for most businesses
Speakers:
Martin Hill-Wilson – Customer Service, CX & AI Engagement Strategist
Tim Pickard – Chief Marketing Officer, Sabio
---