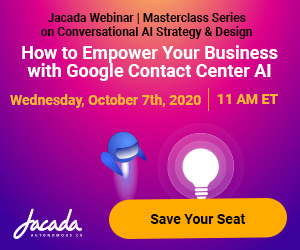 About the Event
Conversational AI is a key ingredient in the recipe for contact center automation. Great AI does not guarantee great outcomes though.
Join the webinar to see how businesses like yours are using Jacada's low code automation platform to boost self-service and contact center agent productivity. Learn how you can scale the use of Google's Contact Center AI within your organization without requiring an army of developers or data scientists.
Using a different conversational AI? No problem. Check in anyway to learn how low code automation serves as conversational middleware driving business agility and much needed resilience during and beyond the pandemic.
We'll walk you through live product demos, share client case studies and leave you with best practices that will guide you in your contact center automation and conversational AI journey.
Key Takeaways:
Gartner's Top 3 Questions that Should Shape Your Contact Center Automation & Conversational AI Strategy
Product Demo: How to Build Intelligent Virtual Assistants Using Google Dialogflow and Jacada Interact
Client Case Studies: How to Drive Continuous Improvement Using Low Code Automation + Conversational AI
Top 5 Tips to Achieve 10x Results: Cut Total Cost of Ownership and Boost Contact Center Automation KPIs
Who Should Attend:
Contact Center Operations & Workforce Management Pros
Conversational AI & Intelligent Automation Pros
Customer Experience Planning, Strategy & Execution Pros
COOs, CIOs, CTOs and Digital Transformation Pros
BPOs & Vendor Management Pros
Date and Time
Starting:
Wednesday 7th October 2020
Organisers