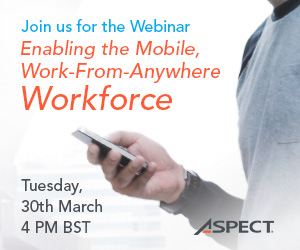 Tuesday, March 30, 2021 – 4pm BST/ 11am EDT / 8:00am PDT
A mobile workforce has become the standard for contact centers.
While this industry and many others weigh bringing all or some employees back to the office, we will continue to see the evolution of workforce technology tools that make it easier to be mobile and help ensure workers are as efficient and effective away from the office as they are in the office.
Register now to join us for the webinar, Enabling the Mobile, Work-From-Anywhere Workforce.
We'll discuss how organizations can allow contact center employees to be immediately mobile so the workforce is ready for whatever new conditions uncertain times may bring.
Learn how the Aspect Workforce Optimization solution arms the mobile workforce with elegant, simplified smartphone access to common WFM scheduling functions, deeper cloud integrations supporting browser-based "workforce anywhere" access and enhanced performance feedback to employees so they can quickly self-correct while staying engaged and on track.
---
---