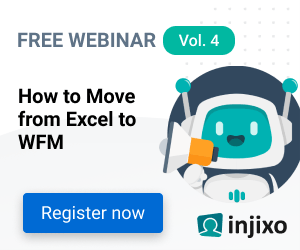 This is the last session in our 4-part webinar series on the "Evolution of Contact Center Planning". Are you tired of Excel spreadsheets and all the limitations that may come with them in contact center planning? Are you ready to take workforce planning to a whole new level with a professional WFM tool? Then this webinar is for you!
September 24, 2020 – 04:00 PM – 05:00 PM (GMT)
11:00 AM – 12:00 AM (EST)
What you will learn in this free webinar:
When Excel is not enough and a WFM tool can take over
The key requirements, benefits, and functionalities to consider in a WFM system
How to replace a beloved spreadsheet with a WFM tool step by step
How to convince your boss to move from spreadsheet to WFM
Giveaway: A free Business Case and ROI-Calculator Toolkit for WFM Software
You're located in a different time zone? No problem: make sure to register anyway. You'll receive access to the webinar recording as soon as it's available.
---
---