Panellists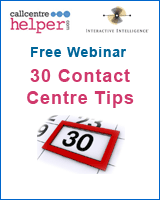 The Webinar Contents
In this session we will be looking at a range of quick-fire tips on how to improve the contact centre. With topics from call centre management and motivation to contact centre technology, there should be something for everyone.

Agenda
10 Contact Centre Management Tips – Jonty Pearce, Editor, Call Centre Helper
10 Contact Centre Technology Tips – Mike Murphy, Regional Practice Manager, Interactive Intelligence
10 Tips from the audience – Sent in by our readers
Tips;
Don't follow the script – build rapport ;I encourage my staff to build rapport with callers, rather than following a script.  Instead of just simply entering details into the computer we use the opportunity to make the call into a conversation.


Sent in by Amy.

We are running a "Simply Thank You" scheme where colleagues can post a "thank you" for another colleague visible on an intranet page. We then have a random weekly draw for £25 voucher.


Sent in by Brieger.

Customer Satisfaction, unhappy customers mean lost customers if we know why customers are unhappy we know what to try and fix to deliver a better customer service and experience.


Sent in by Sharon.

We resolve urgent IT problems for branch and contact centers. To resolve FPOC wherever possible is crucial.


Sent in by Brieger.

I find repetitive songs on the IVR can also cause frustration.


Sent in by Peter.

My top tip is to get buy in. I have found the best way to boost performance and improve morale is to get the advisors buy in on what you're trying to do. This could be by involving the advisor in the process so you can take their ideas onboard and they also feel like their ideas have been included.


Sent in by Peter.

We make customer satisfaction calls for our customers… if it is overworked the customer gets fed up with being contacted / asked if they are happy! A good balance is important.


Sent in by Gina.

To maintain employee motivation and engagement at work it is essential to channel staff's talent and enthusiasm in the right direction with other workplace initiatives, which makes staff feel valued and increases employee loyalty and therefore more happy customers.


Sent in by Debaraj.

Time to decide if we want to be call centres, contact centres or customer assistant centres and also what our agents/advisors etc are called?


Sent in by Brieger.

We hired people who had specific industry experience. Their knowledge has been great but they consistently fail QA and we have had some serious technical issues because some of them are not very tech savvy and cannot troubleshoot their own set-ups.


Sent in by Dana.

Don't use scripts however use a checklist the agent can use and refer to during the call, that way the call sounds less robotic.


Sent in by Peter F.

More focus on Best Contact resolution. It isn't always possible to resolve on the first contact, advisors encouraged to take ownership of the issue and resolve at the earliest opportunity, which may mean calling back, making later contacts to the customer.


Sent in by Kevin.
Interactive Q&A – Live questions from the audience
Topics to be discussed
Morale and motivation
How to improve the accuracy of your forecasts
Contact centre games
Dealing with email
Improving quality scores
The best metrics to use
Contact centre technology
Handling complaints on social media
Improving broken processes
Web chat
Agent engagement
Spotting customer dissatisfaction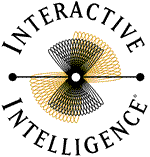 This webinar is brought to you by Call Centre Helper and is sponsored by Interactive Intelligence.
Original Webinar date: April 2012