Panellists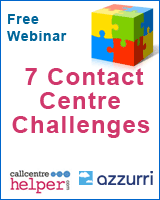 The Webinar Contents
There are a range of challenges that affect most contact centres in trying to deliver the best possible experience across every interaction, whilst at the same time keeping costs under control.
On top of this, customers are more demanding and there is an ever-expanding choice of contact methods to contend with.
In this webinar we investigated seven common contact centre challenges, breaking down the key issues and offering tips and expert advice on how they can be overcome.

Agenda
Introductions – Jonty Pearce, Call Centre Helper
Contact Centre Challenges (and how to solve them)
Luke Talbot, Azzurri
Steve Allington, Katalyst Consulting
Stephen Wright, Azzurri
Your tips
Winning tips – "We have developed a 'licence to support' process for new recruits developed in conjunction with the client to build that trust in our recruitment process." thanks to Will.
"We noticed our customer satisfaction scores increase during a time when the contact centre were having a monthly fun theme, which was clearly evident in the satisfaction scores, which clearly indicate there is a link between high morale and customer service – it's how to keep the interactive themes running and interesting." thanks to Julie
Interactive Q&A – Live questions from the audience
Topics to be discussed
Seamlessly integrating social media and other channels
Painless PCI compliance
Making self-service work
Improving agent empathy
Managing variable call volumes
Agent home-working strategies
How to effectively measure the customer experience
Plus top tips from the audience
Original Webinar date: April 2013
---
---