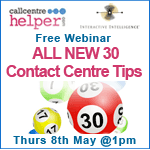 We have received such an overwhelming response to our previous tips sessions that we have decided to repeat it for a third year.  In this jam-packed session our experts put forward their tips on how to improve the contact centre.
Agenda
Introductions – Jonty Pearce, Call Centre Helper
10 Contact Centre Tips – Ian Morton, Budd
10 Technology Tips – Mike Murphy, Interactive Intelligence
10 Top Tips from the Audience
Bonus Tips + Questions
winning tip – "Celebrate, Celebrate, Celebrate! Any good news, any good performance any good customer feedback etc.etc. Always find ways to say thank you to the teams and individuals. This is my favourite part of my job." thanks to Danny3
Spot prizes;
"Do not put time constraints on a customer care call – you cannot delivery great customer care on a clock watch – every customer is individual."  Thanks to Terri2.
"I hold 3 buzz meetings each day 1st to set the scene and expectations for the day, 2nd to update on progress so far and any adjustments needed and 3rd to discuss how did we do. Everybody is then fully aware of their input to the overall goals."  Thanks to Danny3.
"Do a back to the floor for senior managers, it really motivates the staff to see very senior, remote managers spending some time on the floor doing the day job, can then be used as a springboard for development activities on customer service delivery."  Thanks to Tricia1.
"Share the vision of what the call centre is aiming to achieve. Akin to the 2 men breaking rocks with a hammer all day. Question to man 1: what are you doing. Ans: smashing rocks, mate. Man 2: helping to build a cathedral. The same applies to call centres."  Thanks to Paul24.
"Get the non customer facing departments to spend time in the contact centre so that they understand how they impact on the customer, with the processes they put in place, this helps to make changes and get buy in." Thanks to Sue5.
All the tips from the audience have now been turned into an article The spring clean: 85 ways to improve your contact centre
Tips to be discussed
Motivation of agents
Productivity
Customer feedback
Mobile apps
Customer experience
Dealing with absence
Attrition
Performance management
Contact centre metrics
Getting management buy-in
Resource planning
Tips that cost little or nothing to implement
Technology tips
Original Webinar date: May 2014
---