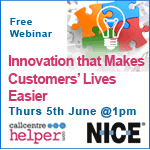 In this webinar we explored the whole concept of customer effort and looked at a number of innovations to make our customers' lives easier.  We also look at some technologies that can identify customer pain points and help to reduce customer effort.
Agenda
Introductions – Jonty Pearce, Call Centre Helper
Innovations in Customer Effort  – Guy Fielding, horizon2
Three technological innovations that make Customers' Lives Easier – Ed Creasey, Nice Systems
winning tip – "It can often be difficult to solve customer problems that originate in a department other than customer service, we have introduced a ticket system across the company that allows us to raise incidents with those departments.
We have a 24hr SL to adhere to which basically means if a customer emails us with an issue the department where the problem originated is targeted to ensure that same problem does not happen to our other customers.
This has been a massive culture change that has led to reduced contacts,an improved customer experience overall and a more customer centric business".  Thanks to Mark27
Interactive Q&A – Live questions from the audience
All the tips from the audience have now been turned into an article 18 Ways to Make Your Customers' Lives Easier
Links
Customer effort Score – www.callcentrehelper.com/debunking-the-customer-effort-score-28652.htm
Topics to be discussed
Identifying customer pain points
Latest research on the Customer Effort Score
Simplifying IVR design
Task resolution
Call entry and call exit
Making it easier to get through security questions
Voice biometrics
Voice of the Customer programmes
Real-time analytics – helping the agent to deliver better service
Top tips from the audience
Original Webinar date: June 2014
---