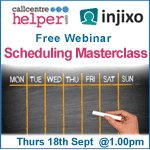 A replay and slides are available from our webinar on the best ways to schedule contact centre staff.
We examined a range of different techniques that can be used to schedule the right number of employees, at the right time.
We also explored the human factors behind scheduling and the role that technology has to play.
Agenda
Introductions – Jonty Pearce, Call Centre Helper
Penny Reynolds  – Contact Center School
Dean Couchman – injixo
Chris Dealy – injixo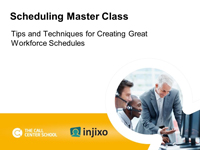 Click here to download our Excel Erlang Calculator – including Shrinkage
Your tips
Winning tip –" We work with three levels of availability. Some availability is high level; i.e. single parents who need to pick up kids and such, some is mid level, sports and suchand then we have low level availability, "if everything matches up, it would be nice to…"This has been communicated well to our employees so defined themself what is high or low level availability – that way, the guy who want to go for a round on the golf course is perfectly cool with the single mom going before him, even though she also had the "good" shift, last week. This works really well. This is for long term availability. In short term availability (funerals, surprise dentist appointment etc.) the team leaders takes an ad hoc decision."
Well done Michel1
Interactive Q&A – Live questions from the audience
Topics discussed
Optimising schedules
Shrinkage factors
The latest thinking on shift patterns
Scheduling Multi-skilled staff
Holiday requests
Scheduling technologies
Agent self service
Shift Swaps
Original Webinar date: September 2014
Published On: 17th Sep 2014 - Last modified: 31st Mar 2020
Read more about - Archived Content
---