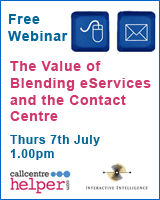 Slides are available from our webinar on e-services and the contact centre along with all of the Questions and Answers.
There has been an explosion in non-voice transactions (email, web, chat, self service, social media) in the past few years.  These have created unique problems for the contact centre.
A number of organisations have recently deployed blending solutions that enable the contact centre to deal with non-voice contacts more efficiently.
Find out how other contact centres have solved these problems.
Agenda
Top tips for dealing with non-voice contacts – Jonty Pearce, Editor, Call Centre Helper
The Value of Blending eServices and the Contact Centre – Simon Cook Regional Practice Leader, Interactive Intelligence
Customer Case Studies
Interactive Questions and Answers
Downloads
blending-eservices-contact-center-whitepaper.pdf (PDF Format)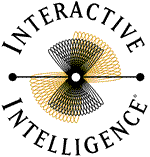 Topics to be discussed
Email response management
Web chat
Collaborative browsing
Short message service (SMS) and multi-modal communication
Knowledge base for self-service
"Click here to Chat Live" buttons
Social media – Facebook and Twitter
This webinar is provided by Call Centre Helper and is sponsored by Interactive Intelligence.
---