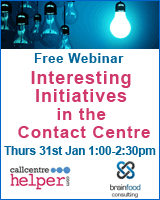 Slides are available from our webinar on Interesting Initiatives. 
Jonty Pearce and Martin Hill-Wilson share some of the most interesting contact centre initiatives that they have spotted over the past 12 months.
Alongside this webinar we will also be running a live web chat where you ask questions and share ideas with the panellists and also other members of the audience.
Agenda
10 Interesting Initiatives  (Jonty's Tips) – Jonty Pearce, Call Centre Helper
5 Trends to watch out for – Martin Hill-Wilson, Brainfood Consulting
Top tips from the audience – All the tips from the audience have now been turned into an article 10 interesting initiatives for the call centre
Winning tip – "Chocolate Reward Cabinet for quick rewards (I have the keys!!!! ;-)" thanks to Jurgen
Winner of Personality Poker – "Using 15 minute vouchers – for agents who are over performing, they receive an incentive which enables them to leave 15 minutes early from their shift, fully paid. Our agents are all on temporary contracts and are paid hourly, so this works really well."thanks to Renu
Interactive Q&A – Live questions from the audience
Topics to be discussed
Quality monitoring
Dealing with absence
Web chat
Gamification
Social media
Developing team leaders
Agent engagement
Mobile apps
Self-service
Knowledge champions
Top tips from the audience
This webinar is brought to you by Call Centre Helper.
Published On: 29th Jan 2013 - Last modified: 25th Sep 2019
Read more about - Archived Content
---