Generate and Accelerate ROI with Interaction Analytics and Consulting Services – webinar
---
THE DATE: 14.00-15.00 UK on 20th June 2018.
THE LOCATION: Online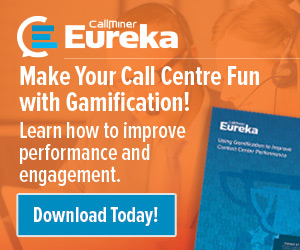 THE DESCRIPTION: Unlock the insight that is contained within your customer interactions and turning that insight into action provides opportunity for you to transform your business and your CX. Ember Services and CallMiner are two of the leading organisations with a proven track record in delivering successful interaction analytics solutions and have devised a practical webinar focussed on delivering a strong Return on Investment (ROI).
In this webinar you will learn about:
How Interaction Analytics works and the recent shift in market dynamics
The best ways to deliver a quick ROI that can improve agent performance to impact operational efficiency, risk and compliance, quality monitoring, sales effectiveness and improved CX
How consulting services and leading technology can be delivered in harmony for accelerated returns and improved timelines
Practical customer case studies you can learn from and stimulate conversation back in the workplace
THE ORGANISERS: CallMiner and Ember
THE WEBLINK: http://pages.callminer.com/Webinar2018-06_OpRevROI_UK_CallMinerWebinar.html?utm_source=cch
---