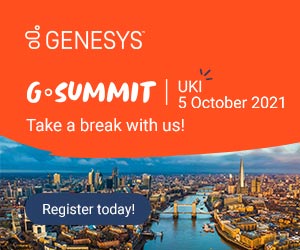 About the Event
Welcome to G-Summit UKI 2021
Join us on the 5th October for G-Summit UKI, a conference for all our customers, partners and future customers.
In these challenging times it's more important than ever before to make customers feel remembered, heard and understood.
Hosted by Helen Briggs, Genesys SVP and GM EMEA, attendees will be inspired by Genesys speakers like Olivier Jouve and Peter Graf, alongside CX industry expert Martin Hill-Wilson and inspirational keynote speaker Jimmy Nelson and many more.
There will also be the opportunity to hear for Genesys partners and experts in select business sessions, where you can dive deeper into solutions, partner offerings and customer case studies.
We hope you will take the time to join us and learn from Genesys and our Customers about how you can delivery AI-powered personal experiences.
SPECIAL GUEST!
British photographer Jimmy Nelson will take all attendees into an amazing story. Jimmy Nelson has spent a lifetime documenting indigenous people all over the world and now in a world in an identity crisis, his work is more relevant than ever.
Date and Time
Starting:
Tuesday 5th October 2021
Organisers