THE DATE: 11th July 2018, 11am GMT
THE LOCATION: Online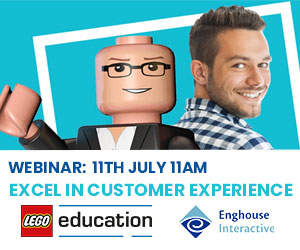 THE DESCRIPTION: Enghouse Interactive hosts a thought-leading webinar with LEGO and Contact Babel highlighting the principles to excel in customer experience.
With pressure on the bottom line, for many businesses improving customer experience is sometimes the last item on the agenda. This is not the case for one of the world's biggest toy makers, LEGO, as it puts its brand at the heart of its customer service and makes it a key differentiator.
Join Kim Bright, Global Consumer Services Senior Manager at LEGO Education, who will share with us how LEGO uses the power of the brand and the brand values to bring great experiences to all who interact with them
Furthermore, Steve Morrell from Contact Babel will share highlights from his latest research, the UK Customer Experience Decision-Makers' Guide, sponsored by Enghouse Interactive, exploring how to excel in customer experience in a forever changing, digital world.
THE ORGANISERS: Enghouse Interactive
THE WEBLINK: Click here to register for the webinar
---