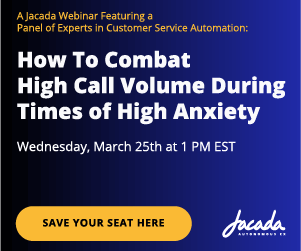 About the Event
A Jacada Webinar Featuring a Panel of Experts in Customer Service Automation: How To Combat High Call Volume During Times of High Anxiety
By battling customer service complexity with agility, you become a hero to your customers.
As businesses grapple with the economic impact of the Coronavirus (COVID-19), customer call centers are dealing with the people side of things. Customers are anxious; call volume is high.
Join our panel of experts for a fluid discussion on how to manage call center operations in the wake of unexpected events such as the coronavirus outbreak.
We will review best practices, demo innovative automation solutions that simplify employee and customer experience in high risk interactions, and share actual results from implementations in high stake environments.
What You'll Learn:
Managing Heightened Customer Anxiety
Ensuring the Safety of Your Customer Service Workforce
Managing Unexpected Spikes in Contact Volumes
Minimizing Onboarding Time, Processing Time and Error Rates
Minimizing Stress for IT & Driving an Agile Operation
Who should attend?
Customer Operations, Contact Centers & Customer Service
Customer Experience Strategy & Execution
COOs, CIOs, CTOs and Digital Transformation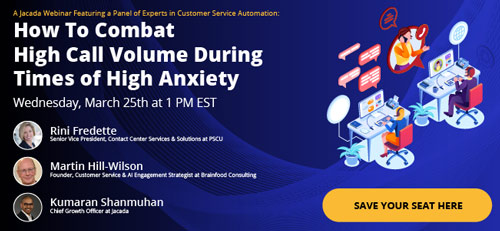 Can't join us? Register anyway!
All registrants will receive an email (typically within 1-2 business days of the live delivery) containing the link to session slides and on-demand playback. In addition, we'll also provide details on how to take advantage of a special offer to be made during the live delivery.
Date and Time
Starting:
Wednesday 25th March 2020
Location
Organisers