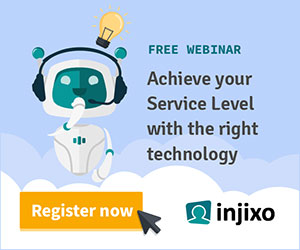 About the Event
Service levels are directly tied to customer service quality and are often a vital indicator of a contact centre's overall performance. Join us for a joint webinar between Fonolo and injixo, where we will discuss how technology aids service level management.
We talk about:
The Role of Workforce Management
The Benefit of Call-Back Technology
Successful Case Studies
Plus, So Much More!
Who should watch:
VPs & Directors of Contact Centres
VPs & Directors of Customer Service
VPs & Directors of Web/Social Media
VPs & Directors of CX
Speakers:
Charles Watson, Head of NA Workforce Management, eBay
Simon Waldron, Customer Experience Team, injixo
Shai Berger, Co-Founder and CEO, Fonolo
Date and Time
Starting:
Thursday 28th February 2019
Organisers