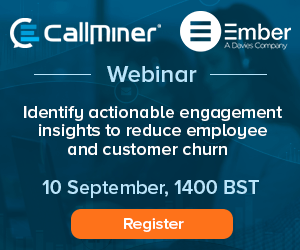 About the Event
Title: Identify Actionable Engagement Insights to Reduce Employee and Customer Churn
Only the top-performing organizations truly use the full power of technology to gather actionable insights from customer and agent conversations. Join this webinar and learn how to use AI-fuelled speech analytics to develop a deeper understanding of positive (and negative) behaviours amongst your customers and employees.
10 September, 2019 at 2:00 p.m. BST / 9:00 a.m. EDT
In this discussion you'll learn how to use analytics in order to:
Identify and stop dissatisfaction and trigger points for customer churn
Identify disengagement and decrease the root causes for employee sickness, absence and churn
Develop practical strategies that deliver customer value and retention, as well as better employee engagement and performance
Register now, watch when you want!
Date and Time
Starting:
Tuesday 10th September 2019
Organisers