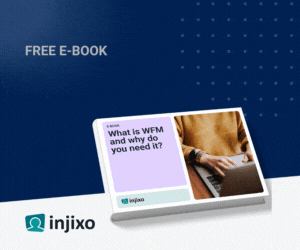 Date :
Thursday 7th December 2023
Location :
Virtual
Register Now!
Join us in this unique webinar series as we dissect the WFM cycle. Learn about the essential phases of workforce management with injixo's experts.
Each 30-minute session is designed to equip you with actionable strategies and an understanding of the powerful features that injixo brings to the table.
TechLab Session One: Forecasting – Thursday 12th October
TechLab Session Two: Scheduling – Thursday 9th November
TechLab Session Three: Intraday Management + Analytics – Thursday 23rd November
TechLab Session Four: Employee Engagement – Thursday 7th December
Whether you're a novice looking to grasp the basics or a seasoned professional aiming to refine your skills, this series promises to provide invaluable insights and best practices to supercharge your call centre operations.
You can either register for all the sessions or just the ones that appeal the most to you.