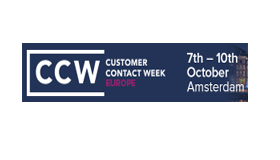 CCW Europe 2019 invites customer contact professionals to attend in Amsterdam this October, 7-10.
Contact Name: Sophie Boyle
Tel No: +442073689332
Contact Email: sophie.boyle@iqpc.co.uk
Profile: Is your priority to deliver a world class service through customer contact innovation, automation and cultural transformation? With the switch from traditional to digital channels to GDPR and a new era of value creation with data & analytics the world of customer contact and experience is rapidly evolving.
CCW Europe 2019 therefore invites customer contact professionals like you to attend in Amsterdam this October, 7-10.
Discover how you can address the change in 2019 at CCW Europe
Join 240 attendees
Meet 70 expert speakers
Gain 10 hours of networking
And 23 hours of learning
Benefits of attending
Celebrate 20 Years of the Global Customer Contact Week Community
Hear from Big Idea's Speaker, Bruce Daisley, VP EMEA of Twitter
Develop Future-Proof Strategies and Skills to Drive your Customer Transformation
Harness Innovation, Automation, AI & Cultural Transformation
Uncover the Formula for Successful Enterprise-Wide Collaboration
Blend Innovation with Fundamental Customer Contact Principles
Learn how you can join hundreds of your peers in Amsterdam this October
Register and pay before the early bird deadline using our code CCH10 to save money off the discounted rate! Book now!
Social Media:
Twitter Handle: @CCWEurope
LinkedIn Company Page: https://www.linkedin.com/company/ccw-europe-2019
Address: Beurs van Berlage, Damrak 243, 1012 ZJ Amsterdam, Netherlands
Weblink: www.ccweurope.com
Categories:
Contact Centre Solutions
Customer Experience
Events & Conferences
Multi-channel Communications
---