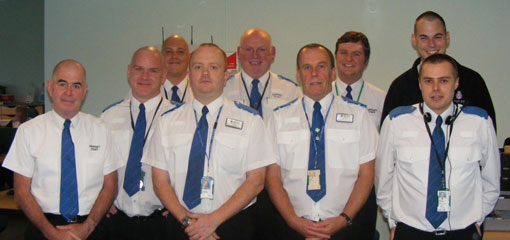 Staff at the Kent Police Force Contact and Control Centre in Maidstone have helped raise over £1,200 for Cancer Research UK by shaving off their hair in support of a colleague who is battling cancer. 
The call takers took the steps as a show of solidarity to their colleague Josie Norris, who is currently battling breast cancer and has lost her hair during her chemotherapy treatment.
On Sunday 6 June the clippers roared into action and proceedings included the removal of a 30-year-old beard, a 30-year-old moustache and various goatee- style beards.
Team Leader Julie Liggins agreed to have her hair shaved off providing the team could raise over £1,000 and once this was raised, Impressions Hairdressers in Grove Green agreed to perform the hair cut free of charge and also made a donation to the fund. Julie was the only lady to take the plunge.
Additionally, Shift Manager Andy Duncan carried out an auction for his colleagues to win the opportunity to shave his hair off completely using a razor.
Andy said: "When Josie told me that she had started to lose her hair I couldn't imagine what she was going through. I told her I would shave mine off as well to try and raise a few pounds for charity and it then snowballed and a number of colleagues also volunteered to do the same. I'm so proud that so many others in my team offered to chop off their locks to support Josie and it shows how popular and respected she is, how much she means to us and how brave we think she is."
Pictured above: the before and after shot, showing the heads and beards that had been shaved!
Published On: 16th Jun 2010 - Last modified: 22nd Mar 2017
Read more about - Archived Content
---