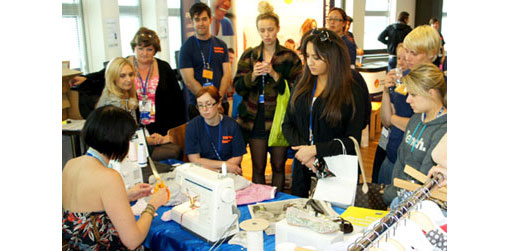 Domestic & General (D&G) has held its third annual Employee Roadshow for the 760 people working at the Brighton site.
Lifestyle experts from around the city gave employees information, advice and access to services to improve their working lives.
Brighton Natural Health Centre, NHS Stop Smoking Clinic, Traid and BBZ Shakez was amongst the local companies offering a range of services from advice on debt and budget management to dance and yoga classes.
Paula Kirkwood, Head of Traid clothes recycling charity, demonstrated how to turn old items of clothing into new covetable pieces. D&G employees then got the chance to make over their own items to donate to the charity, proceeds of which will help to fund the building of schools in Africa.
Several departments within D&G also held stalls at the event enabling people to find out about career opportunities, sports and social events and training.
The Roadshow also gave employees the chance to put forward ideas to develop and improve the business, a move which HR Manager Nicki Perry believes had real benefits. She says: "As our Employee Roadshows have grown and evolved, it's become clear that they help our employees to feel valued and recognised. The event allows people to really engage in what is a nationwide business and explore the opportunities open to them."
Pictured above: Paula Kirkwood, Head of Traid, demonstrating to employees how to remake old clothes into new items.
Published On: 22nd Jun 2011 - Last modified: 22nd Mar 2017
Read more about - Archived Content
---