Fed up of waiting to see what is happening at Expo? We are running live coverage of the show throughout the day. Our reporters are on hand and will update you with breaking stories as they happen.Building up those customer relationships
They might be speaking at the end of the first day of Expo, but Jo Thomson, managing director at the consultancy Procter, and Julie Jaglowski, head of customer services at npower, certainly aren't planning on winding down when they give their conference session on the next generation of change management.

Speaking about npower's experience of change management, Jaglowski admitted that: "The key to success is changing mindsets – managing a process of evolution rather than driving revolution is what's worked for us." "The need to change the way we build customer relationships has never been greater," added Procter's Thomson.
Those interested in learning about the challenges and learning points npower have faced – not to mention some tips that will help them build a successful service platform – should head along for the session at 3:45 this afternoon.
Simply Achieve
Call Centre Helper caught up with SKS Solutions (stand F03). They are a new start-up company based in Farnborough, Hampshire. After running for only 5 months, they have been nominated for 'best product of 2007'. Good luck to all the team when the awards are announced!
Home-shoring is the next big thing, says BT
BT today announced that it is predicting a surge in the rise of 'home-shored' contact centre advisors for 2008 as businesses face up to a growing dilemma between the need for cost reductions and an increasingly demanding customer base.
Call Centre Helper caught up with BT Global Services futurologist Nicola Millard on the Cisco stand (C35) at today's show as her company launched the white paper "Phone Home: The Rise of the Home-shored Contact Centre Advisor".And during the briefing, she warned that contact centres need to do more to ensure they meet both their efficiency targets and the promises they're making to customers to provide great customer service. Home-shoring is – according to Millard – the most viable solution to the problem, providing a home-based workforce with the technology and skills they need to become specialists or 'networked experts' in their field. "The concept of home-working has existed for years, but the concept of home-shoring is the next step, allowing talented would-be call centre agents to take up customer service roles – people who actually want to work in a call centre environment, but who traditionally haven't been able to because they're mothers, disabled or perhaps older people who are unable to get to a physical call centre," she said.
"This comes at the right time for the industry, and is receiving a lot of traction from senior people in the sector, because we're now at a position that we must change or die. We're an industry in trouble," she continued. "In order to get out of trouble – to stop customers from hating us – we need to make some big changes – and one of the biggest is to bring in a fresh, new workforce who are not only content to work in the industry, but who are willing to become experts in their field.
"I don't believe this signals the end of the call centre sector. I'm not suggesting all call centres will consist of small home-based units," she added. "However, something needs to change, and home-shored contact centre advisors are, I think, the way forward."
Happy Birthday to Ciboodle
Birthday Greetings to Graham Technology for their Ciboodle Product that is one year old today.
They brought out the birthday cake and had one of the guys bashing out a rendition of "Happy Birthday to You" on the trumpet.
Happy Birthday to Ken Reid
We also heard on the grapevine that it is Ken Reid of Rostrvm Solutions birthday today, although we couldn't find out how old Ken is.
Happy Birthday, Ken.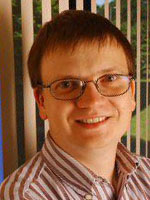 Thoughts on the future
Call Centre Helper caught up with Rufus Grig, managing director of technology firm CallMedia, ahead of his speaking slot in this afternoon's 1:30pm conference session on 'The Contact Centre of the Future'.
Outlining what he would be talking about at 1:30 today, Grig explained: "The nature of what contact centres do and why they do it has changed massively since their inception and the great growth period of the early 1990s, yet many of those changes often don't get picked up on in the way they are managed. We still cling on to certain sacred cows that are, at best, outdated and, at worst, bad practice in the current climate.
"Trends such as increased self-service, increased public awareness of what a contact centre is and changes in consumer approaches to technology and the web mean a re-think of some of those ingrained principles, and that's what our session will examine," he continued.
"We're also looking at current management trends which are impacting contact centres – particularly the increasingly aggressive climate of mergers and acquisitions, improvement, quality and efficiency techniques such as Lean and Six Sigma, and the increasing profile of corporate social responsibility."
Explorer reaches new heights for Expo keynote sessions
It would seem that the first of four FREE keynote sessions here at Call Centre Expo has gone down well. Call Centre Helper has learned that the Excellence Theatre playing host to the keynotes was filled to capacity this morning for Sir Ranulph Fiennes discussion on 'living dangerously'. In fact, the explorer was so popular that some 100 people were left queuing outside, desperate to get within earshot of his wise words!
The Cape calls: How South Africa wooed British businesswoman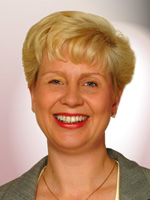 Call Centre Helper has just been hearing a real success story in the offshoring arena – and it's all thanks to Penny Streeter OBE, one of the UK's leading businesswomen and a former CBI Entrepreneur of the Year.
Ten years ago, Streeter founded A24 Group – one of the Fast Track 100 'Fastest Growing UK Companies' between 2002 and 2004. And three years ago she invested in a 130,000sqft freehold premises in South Africa. Why? Because she was unable to recruit enough sales call staff for her 60million medical temp business in Sutton, England.
Streeter is here at Expo this week to talk about QA Calling – the call centre department of A24 Group (stand B15) – and to reveal why South Africa is such a vibrant market for those seeking offshore call centre services.
"South Africa has come of age as a location of choice for outsourced services – not just for call centres, but related CRM [and] IT support and development," she told Call Centre Helper. "The ICT infrastructure there is world class, and there are major benefits in cultural affinity and business alignment with the UK – and good educational and service standards. So UK businesses looking at South Africa can achieve all the cost and logistical benefits of outsourcing, without sacrificing service quality. This is why I set up our outsourced services business in South Africa in 2004."
Looking for customer feedback?
Charter UK (stand B75) is using this year's Call Centre Expo and Customer: Strategy & Management show as a platform to announce the launch of its latest addition to the Charter software suite.
Charter Attentive, Call Centre Helper has been told, is designed to help businesses implement ongoing, dynamic customer feedback as part of their enterprise feedback management (EFM) strategy in order to gain a greater understanding of what their customers think of their organisation, products and services.
"The Charter Attentive solution is different from other products as it aims to provide a continuous stream of customer feedback directly to the most relevant points in the organisation which will ensure that the voice of the customer is an intrinsic part of business decisions," said Matt Hendy, head of product development at Charter UK.
AIMing in the right direction
AIM Technology (stand F20) has just started demonstrating its Performance Suite. The product's various modules – including AIM Performance Review, AIM Rewards, AIM Coaching, AIM Scorecards, AIM KPI, AIM Attendance, AIM Career, AIM Compensation and AIM Attrition Analyze – have been designed as out-of-the-box workflow applications for contact centres and other service environments, and can be used either individually or in combination. In Call Centre Helper's opinion: a worthwhile visit at this year's show.
A brave new world – the rise of the super agent
Just got to Expo and are wondering what to do? A good port of call might be CM Insight's suite where the consultancy's head of research and development, Dr Guy Fielding, is currently debating the role of the super agent in the call centre.
"The demise of the traditional contact centre is inevitable," Fielding told Call Centre Helper ahead of his forum this morning. "If a brave new world is to rise from its ashes the role of the agent – as knowledge worker and intelligence analyst – must be redefined."
Don't work with children, animals and voice recognition
If it can go wrong, it usually will!
I really felt sorry for one large technology vendor (I will not divulge their name) who were quite insistent on showing off their latest speech recognition technology.
It went the same way that most live demos go – badly! And to make things worse they kept on trying.
The old adage still applies – don't work with animals, children, or live demos of voice recognition technology at a trade show.
Published On: 25th Sep 2007 - Last modified: 11th Sep 2019
Read more about - Archived Content
---