More stories – as they happen.
Last but by no means least….
If you're still at Expo and are looking for a practical conference session to finish off the day, you'll likely get a lot from 'Measuring the reality gap – using mystery shopping to understand customer experience'.
Hosted by Paul Weald, director of RXPerience, and Andrew Try, managing director of the outsourcer ComXo.
Speaking to Call Centre Helper ahead of the event, Weald commented: "We will share with the audience some simple techniques that they can apply to 'mystery shop' their own organisation and their direct competitors. Many of these tools are available to use for free from our respective company websites."
"We want to raise the consciousness of how each interaction, across multiple channels, and at different times of the day impacts the organisation's overall brand perception," added ComXo's Try. "Only once an organisation knows what problems its customers are facing can it take steps to address them."
Ringing the changes
In 2004, Co-operative Financial Services (CFS) embarked on an extensive change programme across the organisation that was designed to radically alter its operating model over a two-year period. Essentially the business set out to modernise its distribution channels by offering much greater flexibility while still retaining and growing its customer base.
This change programme included setting up an integrated call centre channel capable of handling over 5 million calls each year and able to offer almost the full range of financial products from a single point of contact. Of course this also meant developing systems and processes to support the new channel and implementing the necessary enabling technologies, but a major challenge was changing the culture of the existing service staff to help them cope with the demands of the new contact centre channel.
How did they manage this challenge? As Ann-Marie Stagg, head of insurance services at CFS, revealed in her conference session this afternoon, partnership with an innovative consultancy was key.
Bringing Academee on board, a cultural change programme was created, introducing and training the concept of "dancing with customers" to over 1,000 agents and managers. The concept included: using positive language and phrases; mirroring the customers tempo and style as much as possible; taking the lead and keeping the customer informed throughout the call; and seizing opportunities to gain the customer's commitment to CFS.
And the results? Supported by the use of individual dance cards (call evaluation) and team dance circles (continual refocus), the programme has had a tremendous impact on the culture of the new CFS call centre, and has helped the organisation to build a profitable, expanding and sustainable business model.
Sorting out the multi-channel muddle
Consultancy CM Insight has certainly been busy over the past day and a half. Call Centre Helper popped along to see managing director Mike Havard ahead of his conference session on 'Meeting the multi-channel challenge: maximising value, minimising cost, surpassing expectations' this afternoon.
Between his various clinics and speaking slots, Havard managed to offer up a few words on what he intends to discuss in the session this afternoon (running from 1:30-2:30 for those who can make it along).
"Two assumptions have dominated discussion about multi-channel service provision," he said. "First, that customers always prefer to speak to an agent; second, that other channels compromise service quality in the interest of cost savings. Both are false.
"In this [afternoon's] presentation, we explain why failing to embrace multiple channels will alienate customers and threaten the business. And we'll demonstrate how innovative use of channels can influence customer behaviour for the good. Plus, you can join us afterwards in the CM Insight hospitality suite and pick up your copy of our white paper 'Meeting the Multi-Channel Challenge'."
How to achieve miles of smiles from your customers
Anyone interested in capturing customer feedback, how to do it successfully, and the kind of results it can bring, should head in the direction of this morning's 11am conference session being held by Gary Schwartz – vice president, product marketing, at technology firm Confirmit – and Dan Martin, head of research and analysis at Airmiles.
'Keeping miles ahead of the competition' is set to reveal how Airmiles, with the help of Confirmit, radically improved its sales conversion rates, and saw its response rate rocket by 35%.
"Understanding customer attitude towards your business is often more important than price when it comes to competitive advantage," Confirmit's Gary Schwartz told Call Centre Helper. "Proactively tracking customer attitude immediately after each interaction via online feedback can provide you with the insight you need to better understand customer satisfaction levels and thereby impact your bottom line. In the conference session, therefore, I'll discuss how you can incorporate attitude into your decision making process to become a forward looking business."
Winning ways at the CCF European Call Centre Awards
Having been a judge on this year's CCF European Call Centre Awards, Call Centre Helper's editor Alex Coxon was more than happy to join the great and the good at last night's glittering ceremony.
Hosted by comedian Frankie Boyle, the event was perhaps one of the most successful yet. Boyle had the audience in stitches, and tension at the ceremony itself was high – thanks to a completely revamped programme of categories and a few entirely new awards.
So, who won what on the big day? Let Call Centre Helper give you the run-down…
Advisor of the year – Steven Williams, Vodafone, Cheshire (with commendations to Katie Bryan from Norwich Union Insurance, and Victoria Franz of Barclays Business Banking, Gadbrook Park)
Best small call centre – Northern Counties Housing Association, Oldham (with commendations to GoResponse, Sittingbourne, and SimplySwitch, Croydon)
Best large call centre – Barclays Business Banking, Gadbrook Park (with commendations to HM Revenue and Customs, Bathgate)
Best outsourcing partner – Vangent Ltd and Southwark Council (with commendations to Capita Business Services and DSG, Firstsource Solutions and Vodafone, and RESPONSE and the AA)
Best improvement strategy – DVLA, Swansea (with commendations to GNER, Newcastle-upon-Tyne, and National Savings and Investment, Blackpool)
Best use of technology – Standard Life Bank, Edinburgh (with commendations to Dudley Metropolitan Council, West Midlands)
Best centre for customer service – LEGO Group, Slough (with commendations to Northern Counties Housing Association, Oldham, and Surrey County Council, Kingston-upon-Thames)
Best outbound campaign – EDF Energy, Hove (with commendations to Sesame Services, Manchester)
Best product at Call Centre Expo – Graham Technology for Ciboodle
Best virtual call centre – Thomson, Coventry (with commendations to Teleperformance Italia, Rome)
Best people practice – Global-Bilgi, Istanbul (with commendations to Barclays Business Banking, Gadbrook Park, and Northern Counties Housing Association, Oldham
Best centre to work for – Barclays Business Banking, Gadbrook Park (with commendations to Gladiator, Swansea)
The Samaritans corporate responsibility award – Barclays Business Banking, Gadbrook Park (with commendations to HM Revenue and Customs, Dundee)
Business strategist of the year – Richard Stollery, LEGO Group, Slough
Contact centre manager of the year – Kathleen Silvestro, HM Revenue and Customs, Bathgate (with commendations to Alice-Louise Hutcheson, Carnival UK, Southampton)
CCF industry champion – Robbie Wilson, RESPONSE
Contact centre team of the year – Barclays Business Banking, Gadbrook Park (with commendations to Capita Business Services, TV Licensing
Non-European call centre of the year – 24/7 Customer, Bangalore, India (with commendations to Direct Channel Holdings, South Africa)
Judges' special award – HM Revenue and Customs, Bathgate
And who was the overall winner this year?
Repeating their success in 2005, Barclays Business Banking, Gadbrook Park took the mantle of European call centre of the year once again in 2007!
The changing face of speech technology
Call Centre Helper managed to catch up with Jim Hennigan, executive director of technology firm Eckoh, after his conference session on 'advances in speech technology' yesterday afternoon.
We were interested in hearing how he thought the technology has moved on in recent years and where he sees it going. Here's what he said…
"Speech recognition was once viewed as a high risk technology. No longer. In tomorrow's contact centres speech will be used to deliver personalised services to mass market customer bases; services that remember, anticipate and meet individual customer expectations. Over the next 5 to 10 years the use of speech will become ubiquitous – and you can't afford to ignore its impact on you, your contact centre and your business."
Show stopper
It takes quite a lot to stop Call Centre Helper's publisher Jonty Pearce in his tracks but that is what ITCampus managed to do on their stand. They featured a guy on a bicycle peddling like mad to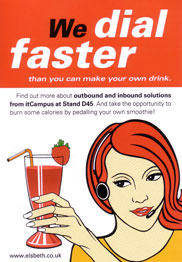 generate enough power to make a fruit smoothie for passing visitors.
Quite a sight.
They have the caption for the show – "We dial faster" – and you can certainly see why.
They asked Jonty if he wanted a go on the bike. Funnily enough, he declined.
Happy Birthday Blue Donkey
Yet another birthday (after two yesterday) this time for Cambridgeshire based telemarketers Blue Donkey.
They are celebrating 10 years of being in business.
Happy Birthday Blue Donkey!
A new website for New Voice Media
New Voice Media have come out with a new shiny website that they are very proud of. They have been showcasing their work to support Tesco's entry into the house sale market. The website can be reached at www.newvoicemedia.com
Published On: 27th Sep 2007 - Last modified: 11th Sep 2019
Read more about - Archived Content
---