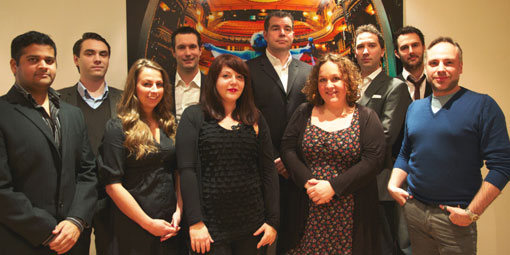 RSVP, a call centre manned by actors, is doubling its capacity and taking on a new floor with 230 seats in Canary Wharf.
The secret to RSVP's success is their unique formula.  All members of the management team have arrived via a performing background, and since its conception have employed only resting actors, believing there are no better people for a job rooted in communication than performers. The majority are degree educated.
The actors at RSVP feel respected and understood, they know that there may be many jumps between the film set and headset before the big break. RSVP also acts as a theatrical agent and through a staff intranet always ensures that staff are aware of the next available role in film, TV, or theatre. Should a suitable audition be spotted, actors can fax their CV from RSVP's machines. Most employees stay with the company for around two to three years, which contrasts with other call centres that can see 100% churn in a twelve-month period:
"I believe that we have gained the edge over other contact centres by nurturing unique talented call centre agents. First impressions really do matter and our agents always ensure each caller has the very best experience. They give their utmost to our clients, with whom we build strong personal relationships.  These skills incorporated with the latest technology and well established  processes mean that we can offer an exceptional service. We are at a very exciting point in the business, and delighted to be expanding," said Dean Hurst, Operations Director.
Pictured above:
Back Row: Will Marsh – Assistant Account Manager, Steven Thorn – Human Resources Director, Dean Hurst – Operations Director, Simon Christie – Account Manager, Phill Dye – Assistant Account Manager.
Front Row: Hiten Patel – Call Centre Manager, Laura Reddick – Assistant Account Manager, Louise Roberts – Account Manager, Gemma Layton – Account Manager, Keith Haye – Human Resources Assistant.
Published On: 16th Feb 2011 - Last modified: 22nd Mar 2017
Read more about - Archived Content
---