Sunderland-based EDF Energy has further strengthened its customer services operation with a number of new appointments to the management team.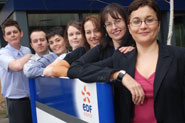 The energy company, based at Doxford International Business Park, has boosted resources with the appointment of eight new managers.
Taking on the role of customer relationship manager are Deborah Speed and Sharron Lindsay while Gareth Capstick, Lindsay Doyle, John Baines, Allyson Brown, Victoria Bradley and Laura Naisbett will take on the responsibility of team managers.
Sharron Lindsay, from Washington, has worked for EDF Energy for 11 years. The 37-year-old began her career as an entry level customer service advisor before working her way up through the ranks. Sharron has also completed a degree in English and History which EDF Energy contributed towards through its Learning for All scheme, and has also completed the company's Graduate Programme. In her new role as customer relationship manager, she is now responsible for nearly 100 members of staff.
Sharron said: "I'm thrilled to be taking up the post of customer relationship manager and I'm really excited about the new challenges the role will bring. I've been with EDF Energy since the early days in Sunderland, it is a great place to work and there are lots of opportunities for personal development."
All of the new managers were appointed through internal promotions as part of the company's commitment to employee development. More than 94 percent of the current management team were appointed internally.
Kevin Gatens, director of customer account management, said: "We are delighted to welcome the successful candidates to the management team.
"These latest appointments further demonstrate our ongoing commitment to provide long-term career options and development opportunities for our employees."
EDF Energy now has a new workplace structure that provides staff with a complete career pathway, from entry-level customer service advisers to team manager positions and customer relationship posts that can lead to senior management levels.
As EDF Energy's largest centre in the country, the Doxford site provides crucial customer contact and billing services for over 5 million residential and small business customers across the country.
New EDF Energy managers, from left, John Baines, Gareth Capstick, Lyndsay Doyle, Laura Naisbett, Victoria Bradley, Deborah Speed and Sharron Lindsay.