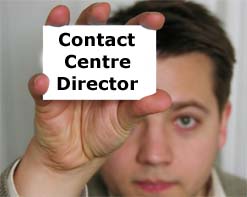 This month, we profile Paul Miller, contact centre director at Prolog Connect.

I was a relative latecomer to the contact centre industry. Neither my time at university nor my original choice of career provided an obvious path to where I am now. It could have all been so different, and for quite some time it was. But before we get to the more mundane career stuff, I'll take the opportunity to tell you some of the non-work related bits about me first.
One of the more obscure things about me that not a lot of people know is that I am a World Record holder. I hold a World Record for being part of the world's largest Samba band. It all
came about as part of a client away day a few years ago, but I am quite proud of it.
Paul's top tips for a career as contact centre director
Don't worry about things you can't influence.
Plan the work, work the plan.
Ask questions and talk face-to-face with colleagues, partners, suppliers and managers. You can always learn something new.
Benchmark. Know how the best perform and understand your own strengths and weaknesses.
Don't forget the power of passion, persistence and fun. They can achieve things that once seemed impossible.
Give your team the chance to shine. It is easy to underestimate people and they hardly ever let you down given the chance.
Not everyone can say they are part of a 'world record' anything – let alone the world's largest Samba band. Having said that, I won't tell you what instrument I was playing..
Samba music aside, one of my passions is running. Three or four years ago, I started running purely to get fit. I set myself goals to monitor my progress and part of this was entering distance events. Pretty soon running had become a hobby of mine and my distances have improved dramatically. So far I have participated in a number of distance events, including the Ashbourne Half Marathon, which I completed in 2 hours 7 minutes.
My test for this year is the Three Peaks Challenge, which means climbing the three highest peaks of Scotland, England and Wales within 24 hours. It covers Snowdon, Scafell Pike and Ben Nevis and I am hopefully doing it in June. It will be my hardest challenge yet and, at present, I am not feeling too confident as I haven't had a lot of time to train lately.

Moving in to call centres through IT
To get back to how I came to work in call centres.. strangely enough, this wasn't through a traditional route. I actually studied accountancy at university and, after graduation, went straight in to IT.
I entered the sector at just the right time though. The IT industry was entering a significant growth period and opportunities were plentiful. I spent the next ten years selling computer systems for NCR, enjoying the pace of change and the depth of knowledge required. To be honest, when I started, the PC had only just been introduced and anyone who knew what was inside was virtually a scientist.
It was during my time in that industry that I began to notice how more and more of the systems I was selling were being used as part of direct customer contact programmes. And this is really where my interest in customer management and contact centres began. After ten years in IT, I became the business development manager for a company called Teledata and have carried out a mixture of business development and operational management roles within the outsourcing industry ever since – that is, for the past 12 years.
The move seemed the perfect transition for me. I have an education in commerce, an early career in technology, bags of energy, and am a world record holder in being part of a team.
As to where I am today: well, I joined Prolog in 2002 and last year and, after being with the company for three years, was promoted to the role of contact centre director.
Day-to-day life at Prolog Connect

In this job I am responsible for the strategy and day-to-day running of Prolog Connect's call centre sites in Sherwood, Nottingham and Sudbury, Suffolk. And I've got to say that the part of my job I enjoy the most is the team-work and the problem-solving.
Contact centres are people businesses first and foremost, with all the supporting data metrics of a Formula One car. The greatest challenge is to convert the data into information that helps make decisions. When you know how the engine works, with all its little nuances, you can then look at how training and technology can help performance. Your customers and your team tell you whether you get it right or wrong.
A typical day for me can take a number of different paths. I hold regular management and planning meetings within the team, but also believe that face-to-face communications are always beneficial. I therefore try and meet with our account managers, salespeople, suppliers and prospective suppliers on a regular basis. I want to know how well we are doing through their eyes, as well as what the numbers tell me. I also hold agent forums to hear their opinions, ideas and concerns.
I am very fortunate I have a varied job that gives me a great deal of satisfaction. I work in a great office environment with lots of space and the right tools to do the job.
While I am happy and content with my work, I do still have a few ambitions I would like to fulfil, though. Firstly, during my time at Prolog I would like see the company win an industry award for its call centre offering. We have achieved some great things over the past few years and our investment in research and training is second to none. We have made good headway so far with our award entries and have achieved a fair few shortlists. However, we have yet to win; fingers crossed this year will be our year.
On a more personal level, I have always wanted to write a book and take up painting – a passion of mine from my youth. I have done fair bit of travelling over the years, both for work and for holidays, but I have yet to visit the two places I would most like to see: New Zealand and South Africa. I joked with a colleague last week that if I won the lottery I would set off travelling and spend my days painting and writing my book. Who knows, this may be my year on two levels: Prolog may win an award and I may win the lottery..
---
Paul Miller is contact centre director at Prolog Connect
Published On: 24th Feb 2006 - Last modified: 25th Jan 2017
Read more about - Archived Content
---