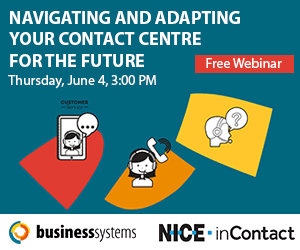 Join us and our expert partners NICE inContact.
Thu, Jun 4, 2020 3:00 PM – 4:00 PM BST
Moving to a 'work from home' model could be one of the most unexpected things that's ever happened to your contact centre. But it's not impossible to work through this. In fact, it's possible to improve remote agent performance and customer satisfaction, while also dealing with all the unique challenges of a remote workforce.
How? Join our webinar for expert advice and best practices you can use to navigate and adapt the future:
Develop processes specific to a remote workforce
Boost agent morale and performance
Incorporate work-from-home planning and scheduling tools
Plan phased returns to work
---
Learn More - Watch a Webinar
---
Recommended Articles
Related Reports