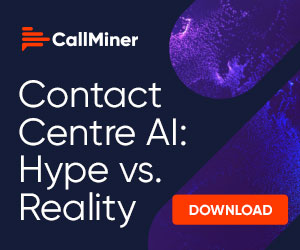 Date :
Thursday 7th December 2023
Location :
Virtual
Register Now!
During 2023 the world crept back into a semblance of 'normalcy,' with a resurgence of in-person engagements, more bustling offices, and increased travel.
Amidst this return to some pre-pandemic routines, while facing mounting macroeconomic pressures, businesses found themselves striving to achieve more with fewer resources while upholding increasingly lofty customer expectations.
How are these organizations utilizing AI, automation, and customer data strategies to tackle these challenges to deliver customer experience in this evolving new normal?
CallMiner's CX Landscape Report illuminates how companies are leveraging these technologies to overcome challenges, optimize opportunities, and elevate their business outcomes through CX.
Join Keith Berg (Contact Center Solutions Senior VP & General Manager, Upland Software), Merlyn Kulkarni (Sr. Director, Alorica), Siddhartha Sharad (Director, CX Transformation, West Monroe), and Jonathan 'JR' Ranger (Chief Customer Officer, CallMiner) for a lively panel discussion that will delve into insights from the report and how organizations are utilizing AI and customer data to enhance CX.
This webinar will explore:
The current landscape of CX data collection methods and best practices for the transition from solicited to unsolicited feedback
How organizations use automation and AI to uncover actionable and drive enhanced CX
The importance of employee experience in shaping superior CX and leveraging AI to identify customer vulnerabilities
Strategies to foster internal alignment, enhance communication between departments, and optimize leadership's use of CX data for organizational growth