Webinar Replay: 7 Key Ways to Lower Average Handling Time
By ticking either box you will confirm your registration and that you consent to our Privacy Policy.

We process your data and share it with the Sponsor through legitimate interest. Without doing so, we would not have the funding available to bring you our industry-leading webinar programme.

We may use your personal information to send you information you have requested. Permission lasts for 24 months. Permission can be withdrawn at any time.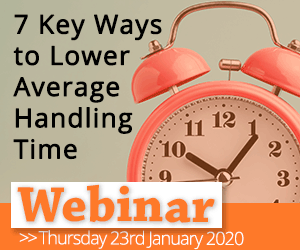 When Average Handling Time (AHT) decreases, so does your workload capacity, meaning that the number of advisors you need to handle customer contacts falls.
This is great news for cutting costs in the contact centre. However, there are methods of doing this that may harm the quality of your customer service.
With this in mind, we helped you steer clear of these dangerous pitfalls, before sharing seven great techniques for safely lowering AHT.
Agenda
Introductions - Jonty Pearce, Call Centre Helper
Kim Ellis, Training Consultant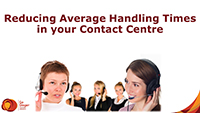 Click here to view the slides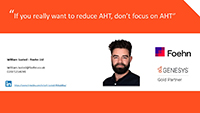 Click here to view the slides
Panellists

Kim Ellis
Training Consultant

Will Lusted
Foehn

Jonty Pearce
Call Centre Helper
What You Will Learn
Rethinking AHT in the contact centre
Improving processes to lower talk time
Reducing hold time and contact transfers
Supporting advisors to speed-up wrap time
The tools that can help you on your way
Top tips from the audience
Winning tip – "Measure customer handling time as well as average call handling time. This gives the overall effort time per customer combining AHT & FCR. This shows any overall effort impacts if you concentrate on reducing individual call time (this may impact calls per customer." thank to Allan5
Original Webinar date: 23rd January 2020
---
Speaker Biographies
Kim Ellis | Training Consultant
I have over 13 years worth of experience in contact centre training across numerous industries.
I work with companies like yours to transform your staff's learning experience. Working with you and your staff, I will develop your face to face, virtual and digital learning programmes.
My aim is to get your people trained to an excellent standard. I understand the need to have your staff be the best they can be as quickly as possible, and to set a framework for continuous improvement by building self paced learning modules and coaching frameworks.
Connect with Kim on Social Media:
Linkedin
|
Twitter
Will Lusted | Foehn
Senior Business Development Manager at Foehn
Connect with Will on Social Media:
Linkedin
|
Twitter
---
Sponsored By