Register: Self-Service- How to Remove Calls from the Contact Centre
We may use your personal information to send you information you have requested. Permission lasts for 24 months. Permission can be withdrawn at any time.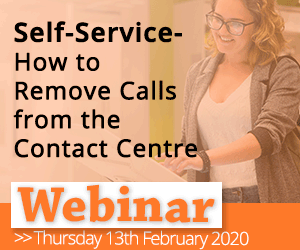 Do you want to ease the pressure on your contact centre, while lowering customer effort? Of course you do – it's a no-brainer!

Well then, it just might be time to improve your self-service options. But, that's easier said than done.

Fortunately, this webinar is designed to give you all the advice you need to do just that, as we help you to lower call volumes, without sacrificing the customer experience.
Panellists

Paul Weald
Contact Centre Innovator

Mike Murphy
Genesys

Charlie Mitchell
Call Centre Helper
Topics to be discussed
Self-service: what are your options?
How to track the success of your self-service systems over time
Which contact escalation options should be included?
Self-service implementation mistakes that you must avoid
The technology considerations that are key to self-service success
Top tips from the audience
---
Speaker Biographies
Paul Weald | Contact Centre Innovator
After 25 years working in contact centres, my experience covers all aspects of people, process, technology, operations and Customer Experience. I have seen and solved many business performance issues before.
Innovation and excellence are the two things clients now want from consultants – to help them design and deliver improvements to their contact centres that gives a level of performance they could not otherwise achieve.
Some of the things that clients say about me.....
"A great consultant."
"'First class' leader in providing call centre consultancy."
"Paul's enthusiasm and visionary approach is always motivational."
Connect with Paul on Social Media:
Linkedin
Mike Murphy | Genesys
Experienced, trusted sales professional with a deliberate focus on customer experience. Passionate about delivering on the improvement promise for my customer. For me, success breeds success that paved my way to a 30+ year sales career across just three employers.
I'd be delighted to engage, if like me you want to bring success to life within your customer experience operations.
Connect with Mike on Social Media:
Linkedin
|
Twitter
---
What time is the webinar for me?
| Location | Time |
| --- | --- |
| USA/Canada - Eastern (Boston, New York, Toronto) | 9:00am (13th Feb 2020) |
| USA/Canada - Central (Chicago, Texas) | 8:00am (13th Feb 2020) |
| USA/Canada - Pacific (LA, San Francisco, Vancouver) | 6:00am (13th Feb 2020) |
| United Kingdom/Ireland | 2:00pm (13th Feb 2020) |
| South Africa | 4:00pm (13th Feb 2020) |
| France | 3:00pm (13th Feb 2020) |
| Germany | 3:00pm (13th Feb 2020) |
| India | 7:30pm (13th Feb 2020) |
| Phillipines | 10:00pm (13th Feb 2020) |
| Australia - Perth | 10:00pm (13th Feb 2020) |
| Australia - Sydney | 1:00am (14th Feb 2020) |
| New Zealand - Auckland | 3:00am (14th Feb 2020) |
Time not good for you?
Register now
and watch the replay after the webinar is over.
Sponsored By