Webinar Replay: The Advisor of the Future
We may use your personal information to send you information you have requested. Permission lasts for 24 months. Permission can be withdrawn at any time.
Contact centres are changing and new trends, impacting both customers and employees, are shaping a very different image for the advisor of the future.
Just think of the trends that you're currently realising in your contact centre, in terms of customer preferences, channel choices and schedule demands.
From these growing trends, as well as many others, we piece together a picture of the advisor of the future, giving you all the information you need to stay ahead of the game.
Agenda
Introductions – Charlie Mitchell, Call Centre Helper
Martin Jukes, Mpathy Plus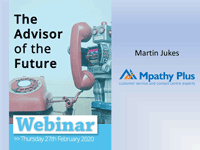 Click here to view the slides
Jeremy Payne, Enghouse Interactive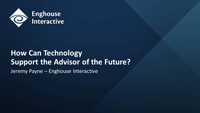 Click here to view the slides


Topics discussed
Webinar Timeline
0:29: Introductions – Jonty Pearce, Call Centre Helper
4:46: Martin Jukes, Mpathy Plus Presentation
10:04: Poll with results from the audience. Asking "Over the Next 5 Years - Your Number of Advisors will..?"
24:15: Poll with results from the audience. Asking "How Frequently do you Measure Advisor Engagement?"
32:33: Take-aways from Martin's presentation
33:10: Quiz
38:22: Top Tips, Opinions and Questions from the audience
42:57: Jeremy Payne, Enghouse Interactive Presentation
1:01:14: Take-aways from Jeremy's presentation
1:02:06: Winning Tip
Panellists

Martin Jukes
Mpathy Plus

Jeremy Payne
Enghouse Interactive

Jonty Pearce
Call Centre Helper
Topics to be discussed
The growing trends that are changing how contact centres operate
How is employee engagement changing?
Changing customer and employee expectations
The advisor skills that will become increasingly valuable
Is the advisor role becoming more challenging?
Top tips from the audience
Winning tip – "Sometimes we spend so much time trying not to lose customers by identifying their needs, we lose focus on keeping the right agents to provide them with a good service" thanks to Mohammed5
Original Webinar date: 27th February 2020
---
Speaker Biographies
Martin Jukes | Mpathy Plus
I am an experienced Senior Executive / Consultant/NED with extensive contact centre, project /programme management and service management expertise. I have delivered consultancy and project management services across the private, public and third sectors for over 25 years and have worked with a wide range of blue chip and niche clients. My experience is at multifunctional levels including strategic, operational, commercial, sourcing, change management and projects encompassing people, process, technology and workplace.
My strengths include being personable, analytical, practical and pragmatic with substantial consultancy and business experience. A team player but with the confidence and experience to work alone and lead teams, I am conscientious and deliver to high standards. I have been a regular contributor of content and thought leadership to industry media through webinars, presentations, podcasts, e-books and articles over a number of years.
Connect with Martin on Social Media:
Linkedin
Jeremy Payne | Enghouse Interactive
A dynamic leader with a strong track record building profitable International businesses from emerging growth to established multi-billion dollar enterprises. Directed the launch and rapid growth of numerous software solutions and services. Proven ability to rapidly scale operations, drive market leadership, recruit and develop high performance teams. Recognized leader in branding, demand generation, customer experience and corporate development
Specialties: I have a strong focus on aligning Marketing Sales & Alliances. The departments I've run have a single goal of making the sales people they support successful in a predictable way.
Connect with Jeremy on Social Media:
Linkedin
|
Twitter
---
Sponsored By