Webinar Replay: Proven Techniques to Increase Customer Satisfaction
By ticking either box you will confirm your registration and that you consent to our Privacy Policy.

We process your data and share it with the Sponsor through legitimate interest. Without doing so, we would not have the funding available to bring you our industry-leading webinar programme.

We may use your personal information to send you information you have requested. Permission lasts for 24 months. Permission can be withdrawn at any time.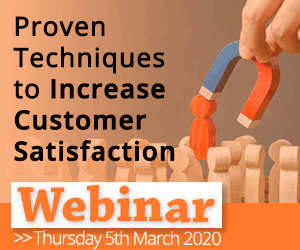 Supporting advisors to have conversations that create happy customers is the fundamental duty of the contact centre.
Customer Satisfaction (CSat) is our key indicator of how well we are doing just that. But, how can we keep pushing that metric score higher and higher.
Well we're here to help, with two presentations from leading industry experts, who shared all the advice you need to bring smiles to your customers' faces.
Agenda
Introductions - Rachael Trickey, Call Centre Helper
Richard Kimber, Comotion Consulting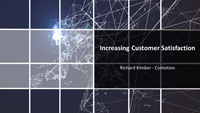 Click here to view the slides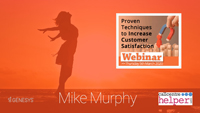 Click here to view the slides
Webinar Timeline
0:14: Introductions – Rachael Trickey, Call Centre Helper
3:15: Richard Kimber, Comotion Consulting Presentation
11:29: Poll with results from the audience. Asking "How do You Currently Measure Customer Satisfaction?"
27:21: Take-aways from Richard's presentation
28:17: Quiz
32:30: Top Tips, Opinions and Questions from the audience
37:17: Mike Murphy, Genesys Presentation
54:45: Take-aways from Mike's presentation
55:32: Top Tips, Opinions and Questions from the audience
58:48: Winning Tip
Panellists

Richard Kimber
Comotion Consulting

Mike Murphy
Genesys

Rachael Trickey
Call Centre Helper
What You Will Learn
How to support advisors to deliver great conversations
Getting more from you CSat scores
The keys to managing and exceeding customer expectations
Key tips to develop an improved customer experience
The tools that can help to satisfy the modern customer
Top tips from the audience
Winning tip – "Set up reporting to automatically send Customer Effort Scores or CSAT scores coupled with customer comments directly to agents every morning so they can follow up with customers that still have questions or had an unsatisfactory experience." thanks to Erin7
Original Webinar date: 5th March 2020
---
Speaker Biographies
Richard Kimber | Comotion Consulting
Richard is a Senior Manager (Insight) at Comotion Consulting.
Comotion helps businesses become customer-led through strategy and transformation. They've created successful, sustainable growth for some of the biggest organisations around the world, using 6 transformative customer pillars; Strategy, Insight, Design, Delivery, Measurement and Culture. Richard is a certified data scientist and market researcher. He specialises in customer satisfaction and loyalty measurement, delivering tangible improvements both to customers and the business' bottom line. He works with organisations to deliver improved end to end customer experiences through root cause analysis, service design tools, effective measurement and the use of insight to make a real difference.
Connect with Richard on Social Media:
Linkedin
Mike Murphy | Genesys
Experienced, trusted sales professional with a deliberate focus on customer experience. Passionate about delivering on the improvement promise for my customer. For me, success breeds success that paved my way to a 30+ year sales career across just three employers.
I'd be delighted to engage, if like me you want to bring success to life within your customer experience operations.
Connect with Mike on Social Media:
Linkedin
|
Twitter
---
Sponsored By