Webinar Replay: Modernising the IVR
By ticking either box you will confirm your registration and that you consent to our Privacy Policy.

We process your data and share it with the Sponsor through legitimate interest. Without doing so, we would not have the funding available to bring you our industry-leading webinar programme.

We may use your personal information to send you information you have requested. Permission lasts for 24 months. Permission can be withdrawn at any time.
First impressions count. When a customer calls into your IVR, it's likely to be the first point of contact they have with your business, from a conversational perspective.
Unfortunately, in many contact centres, the IVR is a static channel. It is often outdated and has the potential to drag on customer satisfaction.
So, what can you do?
In this webinar, we give you everything from quick fixes to wide-scale changes that will take your IVR system to the next level.
Agenda
Introductions – Rachael Trickey, Call Centre Helper
Steve Hindley, iNarratorOnHold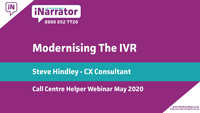 Click here to view the slides
Fernando Santos, Talkdesk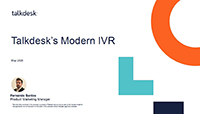 Click here to view the slides
Panellists

Steve Hindley
iNarratorOnHold

Fernando Santos
Talkdesk

Rachael Trickey
Call Centre Helper
What You Will Learn
Is your IVR messaging right?
How to review your current IVR effectiveness
IVR redesigns for impatient customers
Common IVR mistakes contact centres too often make
New innovations that are modernising the IVR
Top tips from the audience
Winning tip – "Keep your options as simple as possible! We recently moved from giving customers specific options like "for help with signing in, billing questions, etc" to just "for customer service" and we are seeing calls routing to the correct queue more often" thanks to Laura51
Original Webinar date: 14th May 2020
Webinar Timeline
0:11: Introductions – Rachael Trickey, Call Centre Helper
3:37: Steve Hindley, iNarratorOnHold Presentation
12:08: Poll with results from the audience. Asking "On a Scale of 1-5 - What Kind of First Impression Does Your IVR Create?"
17:08: Poll with results from the audience. Asking "Who Recorded the Messages on your IVR System? "
26:57: Take-aways from Steve's presentation
27:53: Quiz
31:36: Top Tips, Opinions and Questions from the audience
35:39: Fernando Santos, Talkdesk Presentation
43:52: Poll with results from the audience. Asking "Do you change your IVR in Emergency Situations?"
48:51: Take-aways from Fernando's presentation
49:21: Top Tips, Opinions and Questions from the audience
57:49: Winning Tip
---
Speaker Biographies
Steve Hindley | iNarratorOnHold
Heading up the creative team at iNarrator OnHold my responsibilities include liaising with clients, undertaking telephone system audits, overseeing script writing and IVR design, voiceover recording and production. I manage day to day operations, ensuring the timely supply of scripts and audio, to make our clients' telephone systems sound great.
Our aim is to supply high quality telephone marketing audio at affordable rates to clients of all sizes from SMEs to large multinational corporations.
On-Hold Marketing Audio - My background in the radio and marketing industries enables me to understand clients' marketing activity, then write effective and engaging On Hold Marketing Audio to reinforce that activity to the full and keeps callers holding the line because lost calls are lost revenue.
IVR Prompt Recording- We provide IVR recording and production services to a range of multinational corporations, ensuring companies create the right first impression when customers call their contact centre. If your contact centre has a high call abandonment rate take a look at your IVR Menu Tree and the quality of the voice prompts; we can help you improve every aspect of callers' experience.
Call Centre Audio - In addition to IVR Prompt Recordings, our team work with call centre managers and marketing departments to improve the whole customer telephone experience. The first point of contact for customers is the telephone and if you don't sound great then you could be losing callers before you get to speak to them.
Connect with Steve on Social Media:
Linkedin
Fernando Santos | Talkdesk
Fernando has always been passionate about Technology. The first two years of his academic route were all about studying Computer Engineering. He shifted to Communication in 2007 completing his Marketing Bachelor's degree and more recently, his postgraduate degree in Digital Marketing. The last five years of his career have been in the IT B2B sector, having managed several product marketing projects between 2014 and 2017. Before joining Talkdesdk he had a two and a half year stint in the IT Consulting industry. Currently, he is in charge of launching and generating demand for some of Talkdesk's IVR, Routing, and Integration products.
Connect with Fernando on Social Media:
Linkedin
|
Twitter
---
Sponsored By